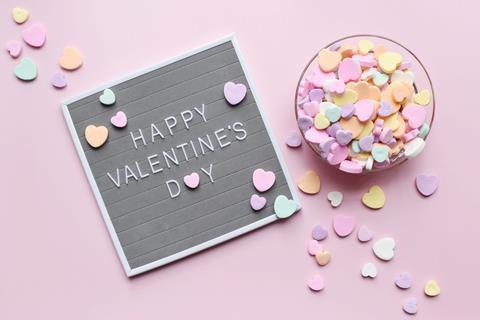 This year Valentine's Day (February 14) falls on a Monday which is definitely not the most romantic night of the week, however you can bet that many couples will still take the time to celebrate.
According to a survey of 2,000 adults by www.finder.com, 27% of couples who live together plan to get a takeaway on February 14, while 26% plan to cook a special meal. Meanwhile, 21% say they will enjoy a box set or movie in front of the TV. Each of these activities presents an opportunity for forecourt stores.
During the Covid pandemic, many forecourts started doing deliveries using apps such as Deliveroo and UberEats, and they proved to be so successful that they have stuck with them. Offering special menus for Valentine's is a great idea (if you have the time/staff) but simply flagging up items such as chocolates around February 14 on your menus on these delivery apps could lead to extra sales.
In-store it's all about the pos material – using red love hearts to highlight gifts and meal ideas. Yes, some people still love this stuff and lap it up. And certain people often forget that it's Valentine's Day, and only realise when they are faced with a barrage of red love hearts and quickly buy whatever's in front of them. Then there are the 'gift-worthy' products that come ready-wrapped. Ferrero has an impressive looking Ferrero Rocher heart at an affordable rrp of £6.06 that would look good on any display.
The supermarkets have got the 'dine in for a tenner' type promotion down to an art – with M&S in particular, excelling at this. But again, there is no reason why you can't put some simple offers together.
As for the 'big night in', most of you caught onto this a long time again. And all you need to do for Valentine's is change the pos to 'Valentine's Night In' and scatter some of those red love hearts or petals about.
And talking of petals, for some people Valentine's is not complete without at least one red rose. Interflora has just launched its 100 Red Rose Grand Gesture, which is priced at a whopping £450. You'd really have to be passionate about someone to send them that! Forecourt flowers – the butt of many jokes over the years – have definitely got better on a lot of sites, so offering some roses should be considered, but remember to keep the water topped up.
Of course, communication is key. Just this morning I received an email from Ocado with the subject: "Say I Love You with our help". It listed 'gorgeous gifts' and 'magical meal ideas'. Now you may not be emailing your customers but you can use your social media feeds to get the message across – especially for last minute Valentine's buys. It's time to spread the love… and spread your customers' spend so it includes your store.