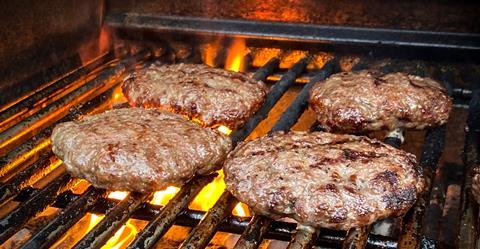 Just before writing this, I read that this was going to be a barbecue Bank Holiday with lots of people planning to celebrate the long weekend by throwing burgers on the grill. Then, I got an email with the question: 'Is your barbecue making you ill?'
My simple answer to that was 'no' but I did read on and it was a press release from pressure washer firm Karcher, which stated that the average Brit had not cleaned their grill in eight months. Perhaps, I thought, that's because they hadn't used it in eight months? However, I don't think that's the point they were trying to make.
But, whether they have cleaned their barbecues yet this year or not, you can bet that once the sun's out, the grills will be out too.
I'm a bit of a traditionalist when it comes to barbecues, preferring good old-fashioned charcoal to gas but, according to the National Barbecue Week organisers, I am in the minority as gas is now more popular.
Over recent years, there has been a lot of talk about barbecue food going upmarket – you know the sort of thing, swapping a bog-standard burger for one made from wagyu beef but with people across the country feeling the cost-of-living squeeze I think many will be happy with standard burgers and sausages.
I know that some forecourt stores have amazing butchery counters and obviously if you have one you can really go to town with your barbecue offer. Keeping an eye on the weather forecasts and then coming up with spicy burgers and tasty kebabs, for example.
A lot of butchers do well offering 'variety packs' for barbecues, which give consumers not just variety but also good value. But for those of you without a butchery counter there are still profits to be made once the sun comes out.
Lots of households will have burgers or sausages in the freezer that they can defrost to put on the barbecue but they may need to get some fresh baps to put them in. They may also need some fresh chicken for variety or some veg to make up some veggie or vegan kebabs.
Then there's the salads and the sauces, not forgetting the snacks, the beer, the wine and the soft drinks.
You'll be stocking most of these items already but flagging them up in-store will help shoppers find them more easily.
Of course, many people will head off to Tesco or Sainsbury's to get all this but there will be others, dressed in their shorts and flip flops, who will prefer just to nip in and nip of a smaller, more local store.
Barbecues aren't just for Bank Holiday weekends though, they're for the whole summer. For anyone who wants to get involved, this year's National Barbecue Week runs from July 4-10. You can check out their website for advice and tips on how to make that week and the rest of the summer a barbecue winner.