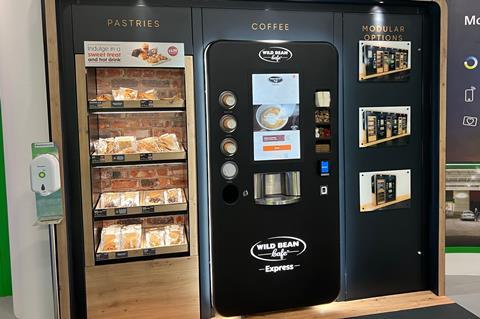 BP launched its new Wild Bean Café Express machine at the Forecourt Show, featuring self-serve Wild Bean coffee, integrated payments, QR scanner for loyalty purposes, plus syrup stations.
"It's aimed at dealer forecourts in highly transient locations, as well as those sites that are pressed for labour," said Andy Allen, BP's UK sales manager.
"With the integrated payment facility on the machine, you've got the opportunity for people to come in, grab a coffee, pay and leave without needing to queue up at the main till. So it will improve the customer experience, and improve the site experience for dealers as well.
"The whole unit is new - the coffee machine is leading edge; plus, there is a modular micro-mart solution that you can scale up with different offers. So you can have just coffee, or coffee and pastries, plus hot food, with more modules being developed for the future. We've really tried to bring it together, so it has a nice flow and looks aesthetically pleasing – and not what you often find in forecourts – a line-up of various machines, all at different heights.
"This hopefully provides all those solutions, with a slick-looking feel that makes it look really modern and fantastic on the site."
While there are currently about a dozen dealer sites with the Wild Bean franchise, this is aimed at those sites that don't have the space, or the labour associated with the barista version. It's purely self-serve.
Allen said the units are being offered with a "competitive" five-year margin share agreement; and stressed that with the right water and electricity connections, it's pretty much plug and play.
The coffee unit is 90cm wide, slightly wider than a Costa machine. "The quality of the coffee is amazing," stressed Allen. "The machine within is industry leading – and is used to producing hundreds of coffees a day."