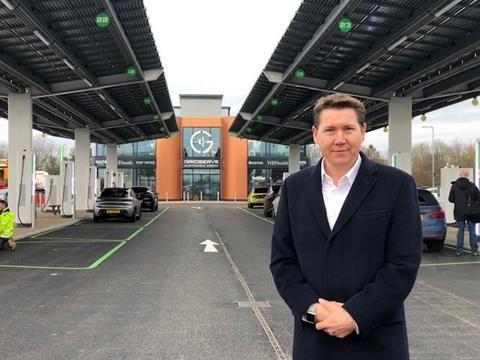 Toddington Harper, the man behind the UK's first Electric Forecourt is to appear as a leading guest speaker at this year's Forecourt Trader Summit.
Forecourt Trader's Summit 2022 conference is run in conjunction with shopper insight specialist Lumina Intelligence to deliver exclusive research and expert insight into the fuel retailing sector.
The event will take place at The Belfry Hotel & Resort in Sutton Coldfield, on the morning of Tuesday, March 1, from 11.00am to 15.30pm, including a networking lunch.
The programme will see the release of the latest Lumina research into the service station sector, as well as feature a great line-up of industry speakers who will communicate their expert insight into the opportunities and challenges facing the forecourt sector.
Toddington Harper is the founder and CEO of Gridserve, which has launched a £1 billion UK-wide programme to make driving electric vehicles more enjoyable and convenient. Its first Electric Forecourt, a £10 million development near Braintree, Essex, was launched in December 2020 and was the start of a network of more than 100 Electric Forecourts planned over the next five years by Gridserve.
Harper says he wants to help move the needle on climate change, and make electric vehicles more accessible to all by providing people with the confidence that the UK will have the charging infrastructure required for mass EV adoption well ahead of the 2030 ban on petrol and diesel cars.
In 2021 Gridserve has continued to rapidly scale the business, purchasing the Electric Highway from Ecotricity, which hosts EV chargers on a majority of motorway service sites, and re-powering it with new 'world class' chargers.
Come and hear what he has to say. Click here to book your place now and look out for further speaker announcements on the Forecourt Trader website and regular e-newsletters.