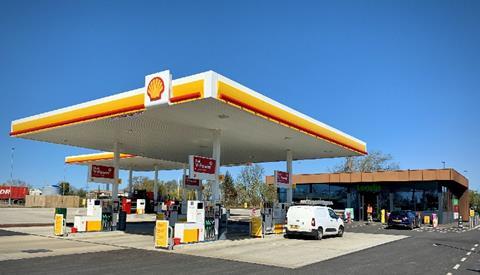 Forecourt Trader of the Year winner Rob Exelby will talk about his award-winning site and his thoughts on future fuel developments in a film to be shown at next week's Summit taking place at The Belfry, on Tuesday March 1.
Rob is managing director of long-established family business Exelby Services, whose new site on the A19 in Northallerton reigned supreme at the glittering 2021 Forecourt Trader Awards at the end of September.
The A19 North site was described on the night as a "stunning modern forecourt convenience development whose owners have put a great deal of thought into its design and function. They have also ensured the site has something of a wow factor by putting an F1 Ferrari on its ceiling".
The Shell-branded site offers a fantastic array of facilities and services to suit its customers, with appropriate environmental considerations, in a pleasant, spacious and easily accessible setting. Most importantly its top-scoring customer service levels are designed to deliver best-in-class to all its customers.
In the film, Rob walks viewers around the new development, pointing out the strategy behind the many features that put this site on the map. He then talks about how he sees it developing over the next 10-20 years, particularly HGV traffic, as alternative fuels come into play.
The top retailer will be featured alongside another Top 50 award-winning retailer at the Summit – the EG Group.
Ilyas Munshi, group commercial director at the EG Group, will discuss the company's fuel, convenience and foodservice operations in a filmed interview.
He also talks about the company's renewed focus on car washing and experience with electric vehicle charging, as it prepares for energy transition.
The retailers are part of a great line-up of speakers who will communicate their expert insight into the opportunities and challenges facing the forecourt sector, including Hanna Hofer, vice-president of BP's UK operations and dealer business; and Toddington Harper, the founder and CEO of Gridserve, which has launched a £1 billion UK-wide programme to make driving electric vehicles more enjoyable and convenient.
There will also be sponsored 'innovation' slots, where companies are given a few minutes to get their point across – enough to whet the appetite for the audience to ask questions during the networking breaks.
Terry Knott, of Noumi Digital Receipts, will reveal how retailers can delight their customers by digitising their in-store experience with digital receipts, by removing paper and unnecessary cost and increasing profitability and loyalty.
Mark Williams, managing director of Workjam, will talk about how to increase employees engagement and productivity in a challenging environment.
Meanwhile, PRA executive director Gordon Balmer will also join the line-up, setting the scene as he considers the challenges facing the UK's forecourt retailers. We are also excited to welcome back former PRA chairman Brian Madderson who will focus on the growing opportunities now emerging in the car wash sector.
Steve Rodell, managing director, retail at property specialist Christie & Co, will focus on future demand for forecourts and the impacts of climate-related trends and legislation; while Jamie Baker, director of external relations at the UK Petroleum Industry Association, will discuss how oil companies are looking to the future with technological developments and low-carbon fuels.
The programme will also see the release of the latest research into the service station sector, by shopper insight specialist Lumina Intelligence, highlighting evolving customer trends and demands.
Forecourt Trader's Summit 2022 event will take place at The Belfry Hotel & Resort in Sutton Coldfield, on the morning of Tuesday, March 1, 11am to 15.30pm, including a networking lunch.
Click here to book your place now.