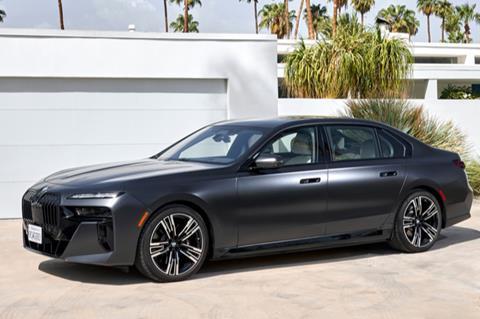 A car leasing comparison site is using the London Marathon in a bid to dispel range anxiety about the leading electric vehicles currently available.
Leasing.com has revealed which EVs currently available to lease can do the most laps of the course on a single charge.
BMW takes two podium spots, in first and third place, with the i7 xDrive60 boasting a 388-mile range, and the iX xDrive50 just eight miles behind. This means the i7 xDrive60 could complete the equivalent of almost fifteen (14.8) marathons on one full charge.
Coming in a close second, however, is the Hyundai Ioniq 6. With a range of 382 miles, if racing around the famous London circuit, the Korean entrant would run out of charge just short of Canary Wharf on its fourteenth lap.
The EV super brands, Polestar and Tesla, miss out on a front three finish by a mere mile, with a 379- mile range for both the Polestar 3 and the Tesla Model 3.
Dave Timmis, CEO, Leasing.com said the comparisons help consumers tackle range anxiety. He explained: "The fear that the vehicle's battery will die without completing its intended journey is a road bump many don't want to go over."
"But with the average driving distance coming to just 20 miles, a notable 6.2 miles short of a marathon, range anxiety seems a non-starter.
"With EV enquiries increasing year-on-year, and more manufacturers releasing sustainable vehicles, we expect this perception will change and motorists will be proud to make an impact on the environment through reduced vehicle emissions."