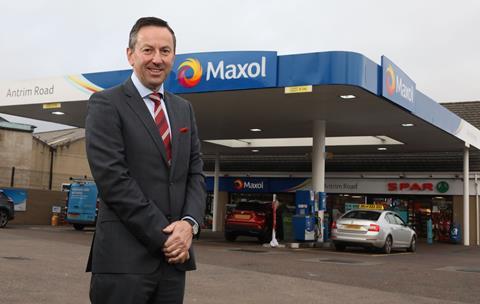 Northern Irish forecourt and convenience retailer Maxol has completed an investment of £250,000 to refurbish its Antrim Road store and forecourt.
The shop layout has changed to allow for the addition of new and expanded lines including a Spar Daily Deli which provides a wide range of hot and cold food throughout the day, including vegan and vegetarian options, to meet growing demand from customers, especially over lunchtime.
The Barista Bar which provides coffee on the go has been moved to a more prominent position for ease and speed of access.
The upgrade also allows for new refrigeration and additional dairy and 'chill for now' space.
Maxol has also made some changes in the forecourt area reducing pump islands from three to two and creating additional parking spaces to meet demand at the busiest times of the day. With finishing touches that include new signage, new lighting and electrics, floor and ceilings, the changes are designed to enhance the shopping experience for those popping in to pick up groceries or food on the go.
Maxol Group CEO Brian Donaldson commented: "We work hard to continuously develop and improve our service stations for the benefit of our customers. With demand for grocery and general shop sales growing significantly at this site during the Covid-19 pandemic we have invested to create a store that is vibrant, modern, and inviting and ensures we can offer a significantly enhanced range in a greatly improved premises. We look forward to welcoming both existing and new customers in store to enjoy everything we have to offer.
"In 2020, we celebrated 100 years of Maxol in Northern Ireland and we are delighted to continue investing in our local service stations to create a network of convenience destinations that continues to meet the ever-changing needs of our customers across NI."