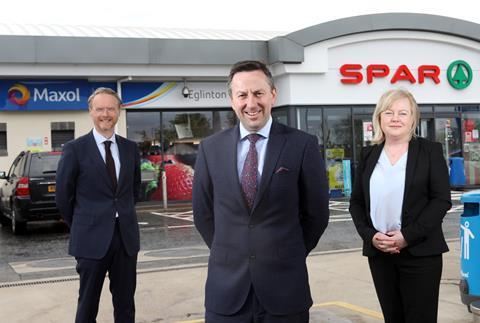 Maxol, Northern Ireland's leading family-owned forecourt and convenience retailer, has completed an extensive refurbishment of its Eglinton Service Station in Co Derry/Londonderry with a total investment of £80,000.
The investment is part of Maxol's ongoing commitment to providing quality, choice and convenience for customers across Northern Ireland.
The refurbishment has seen the introduction of a new Spar Daily Deli and updated internal seating area , ensuring customers have a comfortable, modern dedicated place where they can enjoy a coffee from the Barista Bar or a bite to eat.
The upgrades also include the installation of a new porch, renovated entrance area and an additional till to allow for a more efficient shopping experience.
On the forecourt, and in line with Maxol's pledge to becoming a more environmentally sustainable business, the company has installed new pumps with an integrated injection solution, offering its new premium fuel grades, including Maxol Premium Fuel, which claims to have fewer pollutants for better power, acceleration and overall performance and is central to Maxol's carbon offset programme which launched in November last year.
Brian Donaldson, CEO of The Maxol Group, said: "The investment at Maxol Eglinton represents our ongoing ambitions to continually improve our services, choice and facilities offered to our customers. We're extremely happy with the renovations and are confident that these new features will provide an even more enjoyable, and convenient shopping experience for all customers in the area.
"Just last year we celebrated 100 years of Maxol in Northern Ireland and we are delighted to continue investing in our local service stations. It is our aim to have a network of convenience destinations that will continue to meet the ever-changing needs of our customers across NI. We wish Alan and Val and their team, who have been at Maxol Eglinton since it opened in February 2015, every continuing success."
Alan and Val Rodden, licensees of Maxol Eglinton, said: "This investment will enable us to provide our valued customers with a great instore experience and we're confident the improvements will be welcomed by the local community and we look forward to delighting everyone in store."