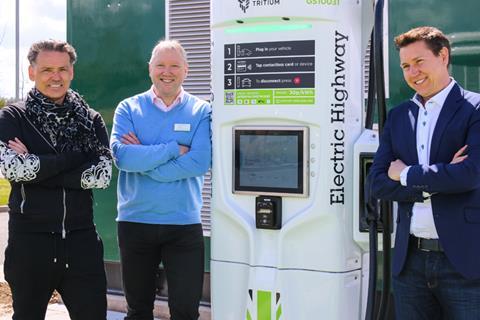 Moto has opened its new service station at Junction one of the M6 at Rugby, which includes the largest high-power charging site on the UK's motorway network, and has announced plans to roll-out high-power chargers with The Electric Highway.
The Electric Highway has opened the charging site, which is its first under the its new partnership with Gridserve, which saw the company take a 25% stake in the Highway.
The new facility includes 12 Tritium chargers, able to charge supported vehicles at 350kW – adding around 100 miles of range in less than five minutes. All pumps are contactless. There are also 12 Tesla chargers.
The Electric Highway has plans to rollout high power chargers on every Moto site, with 28 Moto sites set to have ultra-rapid chargers by the end of this year. The aim is to have all Moto services with at least six ultra-rapid chargers by 2023, as part of a substantial long-term investment programme, and also includes an upgrade to all existing 50kW chargers by the summer 2021 to support greater charging flexibility and additional power ahead of increased staycation traffic.
Following the blueprint of the new Rugby site, Moto, together with Gridserve and Ecotricity, is planning a further 24 high power charger locations at Reading, Thurrock, and Exeter by the end of 2021.
Ken McMeikan, chief executive of Moto, said: "Moto is committed to sustainable motoring and we want to play a key part in encouraging more people to have the confidence to switch into electric vehicles. Rugby Services is the most significant first step in achieving this and we're proud to be launching the UK's largest EV charging site.
"Our vision is to transform the UK's rest stop experience and we think motorists will be delighted with the new Moto site at Rugby, particularly as they begin travelling again following easing of Covid-19 restrictions to see family, friends and loved ones."
Toddington Harper, CEO of Gridserve, commented: "Gridserve's purpose is to deliver sustainable energy and move the needle on climate change, and the rollout of high power chargers across Britain's motorways in partnership with Moto will do just that – providing drivers with the confidence to go electric today.
"To see what the future of electric vehicle charging on the UK motorway network looks like, you can now visit Moto's new Motorway Service Area at Rugby. After announcing our Electric Highway partnership with Ecotricity in March, and supported by Hitachi Capital (UK), we've been hard at work putting in the charging infrastructure needed to give people the confidence to make the transition to electric vehicles, by delivering 6-12 high power 350kW chargers across the network as quickly as possible, as well as replacing all the existing chargers with the latest technology."
Dale Vince, founder of The Electric Highway, added: "We began building the Electric Highway 10 years ago and Moto was one of our founding partners. Back then, state-of-the-art charging was just 7kW and here we are today at 350kW in just a decade. This is our very first high-power installation, and this new technology comes just at a tipping point in the adoption of electric vehicles.
"This marks the beginning of our new partnership with Gridserve, and kickstarts a comprehensive programme where these installations will become ubiquitous on the motorway network, helping to make the experience of using an electric car no different to using a fossil-powered one."