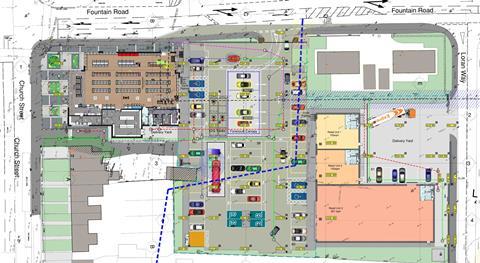 A new forecourt is part of a proposed multi-million pound development at Cookstown in County Tyrone, which will also include a supermarket and three other retail units.
Nigel McGurk, of VW dealer TJ Hamilton in Dungannon Road, Cookstown, has lodged a 'proposal of application notice' with Mid-Ulster District Council with full details of the plans to be made public next month.
The area designated for development sits between Church Street, Fountain Road and Loran Way. The site had previously been a car showroom (now demolished) and stock car park. Site access via Fountain Road was approved in a previous planning application.
McGurk's agent, the Clarman Partnership, will hold an open day at its offices in Dungannon Road, Coalisland, on May 9 to outline the proposals. There will also be a leaflet drop to properties and premises within 90m of the proposed development, informing occupants of the plans. A full application would then follow.
The supermarket would measure over 9,000sq ft, with around 6,000sq ft of this being the sales area, which would include an in-store deli and seating area.
The forecourt would sit between the supermarket and the three other retail units. Around 60 car parking spaces would be available plus there would be four charging points for EVs.