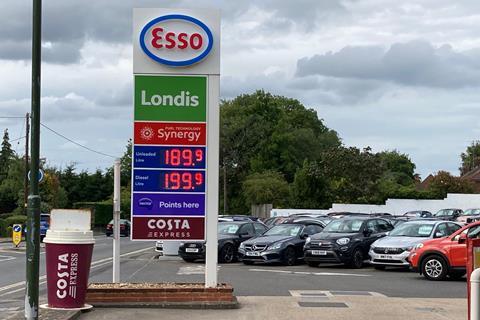 The PRA and a leading independent retailer have refuted claims by the RAC that the continuing daily rise of the average price of petrol at the pumps is "inexplicable".
Petrol prices hit a new all-time high yesterday, while diesel prices appear to have stabilised, with it finishing Tuesday just shy of its peak on Saturday.
RAC fuel spokesman Simon Williams said: "Inexplicably, fuel prices rose yet again yesterday with petrol hitting a new all-time high of 191.24p per litre and diesel just short of another record at 199.01p
"We can see absolutely no rhyme or reason why average forecourt prices are still going up, given that the wholesale price of both fuels has been falling for weeks. Drivers up and down the country have a right to know why they're having to pay what they are for fuel when the costs to retailers right now are so much less they were a few weeks ago. Next Thursday's announcement by the CMA following its review will no doubt be watched very closely.
"Suggestions that the government might be about to announce more support for hard-pressed drivers are welcome. A cut to the price of forecourt fuel really can't come soon enough. If it's a further fuel duty cut that the chancellor decides on, it's absolutely vital that this is passed on in full immediately by retailers to give drivers some respite from these historic high prices. It's also vital the government monitors the wholesale market and closely scrutinises retailer margins."
However, Gordon Balmer, executive director of the PRA, said: "We have seen extreme fluctuations in the product price values. If you look over the course of June the average margin for petrol has been about 7ppl, which is not enough to remunerate the costs, and for diesel it's a lot lower at around 3.5ppl.
"All our members take note of prices in their marketing area. They have to, to remain competitive, but prices are very volatile at the moment. We are not making the margins we need to, and we are being as competitive as we can be."
Darren Briggs, CEO of the Ascona Group, added: "The RAC need to bear in mind that there are huge differences in the timing of costs and those make huge differences to pump prices.
"We need 10ppl to make it work and because of these timing effects you will see some prices increasing because the volumes aren't there.
"There are some sites that aren't taking a load this week because they have too much stock underground. Because they are not pumping the same volume as they used to they will miss a load and then the price will go up again.
"Because of this huge volatility and the timing effect this is why we are seeing all these different prices. There is an education process here for the RAC and other motoring organisations to explain to them how the retail and the wholesale markets work together and how the supply agreements work."
Balmer said the best way to help hard-pressed motorists would be for the government to cut VAT. It has seen its revenue increase massively due to the high prices so it would be paid for, and unlike a duty cut it would translate straight through to the pump prices.