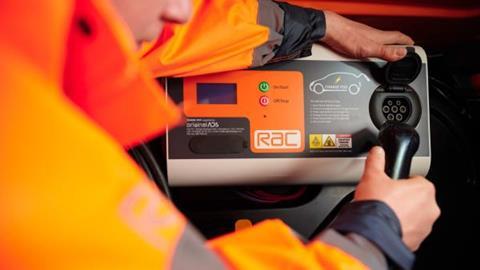 The RAC has agreed a deal to support the first EV rally to take place in England.
Featuring a wide range of EVs from factory models to solar-powered and several self-builds, The London to Brighton EV Rally (L2BEVR) will start on the banks of the River Thames and cover over 58 miles to finish at Madeira Drive on Brighton seafront on Sunday 18 July.
The event, which is organised by Brighton-based bus company The Big Lemon and sponsored by Britain's biggest generator of zero carbon electricity EDF, currently has 27 entries including a Sinclair C5, Jaguar i-Pace and Renault Twizy, and a self-build former chicken coup.
The RAC has teamed up with the year's event as the official breakdown and recovery partner with its patrols on hand to rescue any of competitor who runs into difficulty.
RAC EV spokesman Simon Williams said: "We're delighted to be the official breakdown partner for the first ever London to Brighton EV Rally, particularly as our expert patrols are already so well known for helping on the Royal Automobile Club's Veteran Car Run. As the number-one for EV breakdowns we're ideally placed to assist any competitor who runs into difficulty.
"Our teams will be there to give competitors complete peace of mind in case something unexpected happens, whether that's getting a puncture or running out of charge. Any competitor unfortunate enough to go 'flat' will be able to benefit from our EV Boost technology which provides an emergency charge sufficient to get drivers home or to the nearest charge point.
"Our vans are also equipped with our unique All Wheels Up recovery system which enables patrols to tow EVs with all four wheels off the ground, and saves time waiting for a separate recovery vehicle. It's like having a flatbed in the back of our vans."
L2BEVR co-founder Tom Druitt said: "We are very excited about the first running of the rally and hope it will become an annual event showcasing the rapid development of electric vehicles and renewable energy.
"We're very pleased to have the support of such high-profile companies such as the RAC which is clearly leading the way in looking after the breakdown needs of electric vehicle owners."