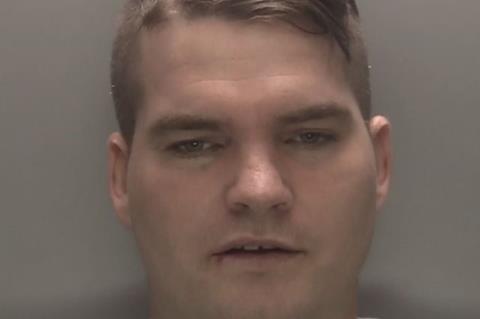 A knife-wielding robber who scarred a petrol station worker for life has been sentenced to five years in prison.
Martin McDonagh was arrested hours after an assault and robbery by officers from Leicestershire Police.
The attack took place at around 6pm on Wednesday 24 August last year, after a worker at the service station, which is on the junction of Desford Lane and A47 Hinckley Road near Leicester Forest East, noticed a grey Honda pull onto the forecourt and stop at the pump closest to the road.
McDonagh got out of the vehicle and the worker inside the store noticed the pump was in use but that McDonagh did not appear to be filling the car's fuel tank.
He went outside and on approaching the vehicle, he noticed that McDonagh was filling containers on the back seat.
An argument took place between the two and as the worker challenged him, McDonagh attacked him slashing him with a knife across his chest and his upper arm.
Other staff came out to assist as McDonagh got back onto his car and attempted to drive away.
The injured worker and a second member of staff held onto the open car door as McDonagh reversed the car in a bid to escape. He managed to make off at speed with £170 worth of stolen fuel.
Police were immediately called and established that although the vehicle was showing stolen number plate, it did have a distinctive yellow coloured wheel.
Officers were able to track the direction it had travelled and at around 8.20pm later that night, the vehicle was located in Earl Shilton, with McDonagh in the driver's seat.
The wheel had been painted black and paint was found in the ground and on a wall nearby as well as on McDonagh's hand. Fuel containers were found in the car's boot and McDonagh's tattoos and shoes he was wearing on arrest matched those on the CCTV.
In interview, he denied the offences put him and was later charged to appear to court.
He pleaded guilty at an earlier hearing to section 18 – wounding with intent, robbery, possession of a knife blade/sharp-pointed article in a public place, driving a motor vehicle dangerously and fraudulently using a registration mark/registration document.
He was sentenced at Leicester Crown Court on Thursday 16 March to four years in prison for these offences.
He was also given a 12-month prison sentence for an offence of affray in an unrelated incident days earlier when he threatened the occupants of an address in Earl Shilton.
Detective constable Darryl Hart, from Hinckley CID said: "The description of the suspect and his car given to us by staff, as well as from checking the CCTV, provided us with an excellent start to tracking him down. This, along with the quick response of the attending officers, enabled us to carry out early crucial enquiries which went towards the apprehension of McDonagh in the offending vehicle, only a couple of hours later.
"The injured worker will be scarred for life as a result of the assault, and I am sure the mental impact of this incident will remain with him. He was simply doing his job and no person in that position should ever be assaulted.
"McDonagh denied any involvement when he was interviewed but the wealth of evidence against him showed his guilt. I am pleased that he has now accepted responsibility for his actions and that he has been given a prison sentence for the crimes he committed."