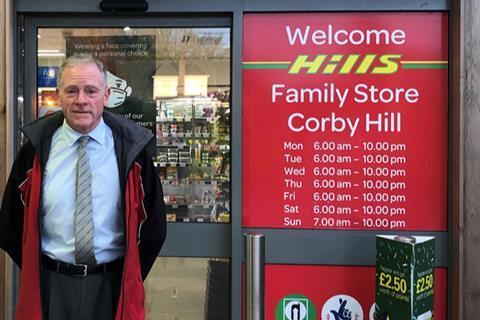 Top 50 Indie Hills of Corby Hill has praised an event for independent retailers organised by its Spar distributor James Hall & Co.
The two-day Driving Sales and Profit event, at Ribby Hall near Blackpool, provided independent retailers from across the north of England with updates on improvements to James Hall & Co's IT infrastructure, and enhanced support offered to independent retailers through delivery and transport.
Retailers were also able to enjoy networking opportunities, meet with key suppliers, and there was a focus on the Christmas trading period ahead.
The event was the first face-to-face meeting organised by James Hall & Co in two years, due to restrictions caused by the Covid-19 pandemic.
Michael Gatty, director at Hills of Corby Hill, said: "The retailer event was a good chance for our Hills team to meet up face-to-face with our contacts at James Hall & Co. They have consistently been useful events over the years to take away ideas on how to improve business.
"The service James Hall & Co. Ltd has provided us during the pandemic has been very good – we have no complaints at all. There have been times when products have been unavailable, but that has been a much wider supply issue than James Hall or Hills."
Hills of Corby Hill, which has 13 Spar stores across Cumbria serviced by James Hall & Co, also won the competition for tickets to attend Spar UK's Conference in Gran Canaria in 2022.
Michael added: "We are also very pleased to have won the tickets to the SPAR UK Conference. It is a great opportunity for our business to be there, and members of our Hills team are enthusiastic to attend. We have attended these in the past and they are excellent events to pick up tips and meet new people."
Peter Dodding, sales and marketing director at James Hall & Co, said: "It was fantastic to see so many familiar faces with our independent retailers and suppliers in attendance at our Driving Sales and Profit Retailer Event.
"The event provided us with a chance to update retailers on national Spar strategy, and a range of our company developments, as well as inform them about the all-important upcoming Christmas period."
Hills of Corby Hill was ranked 20th in the Top 50 Indies with 12 BP sites, each with a Spar store, and also has a standalone Spar store.
In addition to its Spar distribution business across the north of England, James Hall and Co is also a major Spar retailer in the region including 40 forecourts.