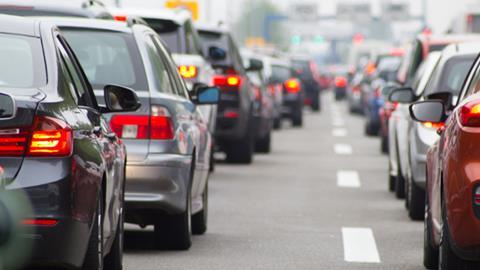 Car traffic in Great Britain has reached a level not seen in more than a year and a surge in fuel sales has taken it to 97% of pre-pandemic levels.
According to Department for Transport data, on Friday 28 May car traffic was at 101% of the average level seen in the first week of February 2020, the baseline for comparisons. The increase in volume coincided with a bank holiday weekend, the start of some school holidays and good weather.
On the same day, the overall traffic volume – including lorries and vans – was at 104% of the baseline period.
Meanwhile, forecourt road fuel sales were up 6% compared with the previous week, according to the Department for Business, Energy & Industrial Strategy (DBEIS), reaching 97% of pre-Covid levels.
Average sales were 5.8% higher in England, and 7.0% higher in Wales and Scotland, on the previous week.
Across GB average daily sales of diesel were 10,070 litres, 97% of pre-pandemic levels and average daily sales of petrol were 7,110 litres, which was 98% of pre-pandemic levels.
The statistics from DBEIS give a weekly breakdown going back to the start of 2020, and report that in the eight weeks prior to the first lockdown on March 23 2020, average daily sales were 17,690 litres per filling station, with a peak of 20,983 on Friday February 28.
After the lockdown they fell rapidly bottoming out at 2,522 litres on Sunday April 12 and have been recovering ever since, with occasional setbacks.
The figures from BEIS are based on end of the day snapshots of petrol and diesel sales and stock levels from a sample of around 4,500 filling stations across Great Britain.
However, the fuel volumes are collected primarily from oil companies, supermarkets and large independent filling stations, and this results in higher daily average figures than if all independent volumes were included.