Ultra-rapid chargers installed by Be.EV to enable 20-minute charging
Free charging at the site for Be.EV members for one week only
Installation marks the start of a larger rollout by The Derwent Group to provide EV charging across its retail portfolio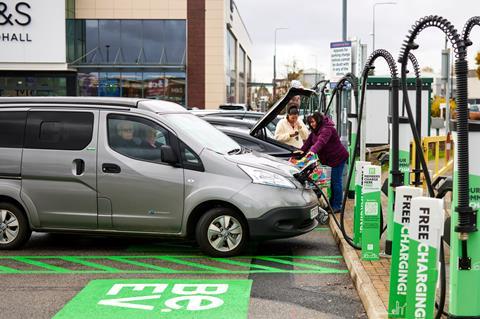 Retail park operator The Derwent Group has marked the start of a partnership with EV charging network Be.Ev to deliever a reliable charging service for shoppers with the opening of a new "state-of-the-art" hub at White City Retail Park in London.
All Be.EV members will also have exclusive access to free charging at this location for a week, until Tuesday, November 21.
White City is the first of four installations that Be.EV will be developing in partnership with The Derwent Group, which is set to drive additional footfall and enhance the value of their sites. Further charging hubs are planned at some of the North West's most popular retail destinations across Liverpool, Warrington and Wallasey.
All of the sites will be equipped with Kempower chargers, which claim to charge a typical EV to 80% in 20 minutes, compared to four-to six hours on a 7kW fast charger.
The chargers are able to "intelligently distribute energy supply between vehicles according to demand", according to Be.EV, meaning if one car reaches the maximum amount of power on one charger, any residual energy supply can be reassigned to another vehicle connected on-site.
White City Retail Park attracts an average of 140,000 vehicles per month. The goal is that the 10 parking bays sharing five 150kW ultra-rapid chargers will allow more shoppers' cars to be charged in a day and become free again more quickly for the next person – a key factor in ensuring a smooth and convenient charging experience while drivers browse the shops.
Be.EV undertook all up-front installation and operating costs for the White City hub as well as the design, build, installation of the site, and ongoing maintenance.
Asif Ghafoor, CEO of Be.EV, said: "We're delighted to work with The Derwent Group as its EV partner, and to bring our state-of-the art charging infrastructure to retail sites across its portfolio.
"Retail parks offer shoppers a convenient moment to charge their car, and The Derwent Group is getting ahead of the curve by providing reliable, high-quality charging facilities for their visitors.
"Other property developers should be taking note. As more and more shoppers choose to drive electric vehicles, they'll naturally gravitate to retail destinations where they can conveniently charge their car whilst shopping."
Peter Gilliland, Head of Property Management at The Derwent Group adds: "The roll out of this first phase of electric vehicle chargers with Be.EV at White City marks an exciting step in the evolution of the Derwent Group portfolio as we look to create more sustainable and improved amenities for our customers and drive revenue.
"Given the prime locations and strong line-ups of our retail parks, partnering with Be.EV was an obvious choice given its established local network and commitment to excellent customer service. We are looking forward to rolling out EVC to a further 11 sites in upcoming phases."
The Derwent Group works on behalf of The Albert Gubay Charitable Foundation, which funds projects run by registered charities in England, Wales, Isle of Man, and Republic of Ireland. The charity's property portfolio currently comprises three million sq ft of office, industrial, leisure, and retail space.