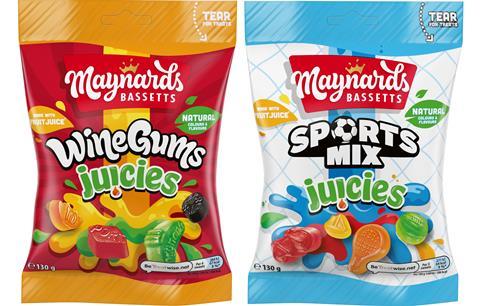 Mondelēz International's Maynards Bassetts and The Natural Confectionery Co brands are tapping into the trend towards authentic ingredients with the launch of a new HFSS-compliant range called Juicies.
The new range will comprise Maynards Bassetts Wine Gums Juicies, Maynards Bassetts Sports Mix Juicies and The Natural Confectionery Co Juicy Snakes, each of which includes real fruit juice and 30% less sugar than the standard equivalents.
Anna Ulrich, brand manager for joyful candy at Mondelēz International, said: "Candy consumers are still looking for the best-tasting products which are also fun, made for sharing and made with trusted, authentic ingredients. For this reason the addition of real fruit juice to this great-tasting range is certainly set to capture shoppers' attention from the fixture.
"Joyful candy is a strong area of growth within the category – and is currently worth an £1bn in sales. The category also has 86% household penetration so it's crucially important for retailers to include different options within their range to offer choice for all.
"Wine Gums Juicies, Sports Mix Juicies and Juicy Snakes will tap into these key trends and will deliver exactly what those consumers are looking for – fun products with natural, trusted ingredients. The core range of each of these brands will still be available, offering more choice than ever through our expanded portfolio in a soon to be HFSS-restricted world."