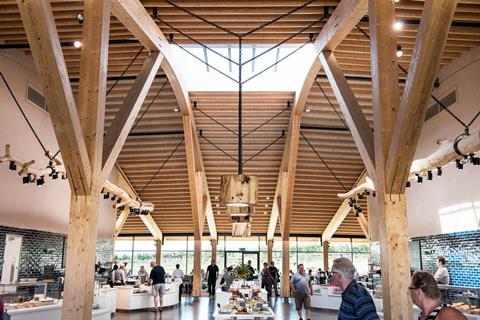 Westmorland Family, owner of former Forecourt Trader of the Year winner Gloucester Services, topped the league table of motorway service operators in 2021, and currently has a five-star rating, according to customer feedback on information site, motorwayservices.uk.
Gloucester Services on the M5 also received the most customer votes, making it the most talked-about motorway service station in 2021, as motorists left their views on standards, services and facilities.
The website - motorwayservices.uk - enables motorists to search for services along particular motorways, giving them the option to filter their search in order to see such things as what facilities they have and how well-managed the site is, with the aim of collecting as much information as possible to help users plan their journeys.
Westmorland is currently rated 4.64 in the operator category; while its Gloucester Services site is currently scoring 4.35 on the site, with users praising management and good facilities such as the kitchen, children's play area, showers and dog walking area. Gloucester Services was born as a sister project to Tebay services in Cumbria, which is also ranked highly on the site.
The ratings are broken down into three categories, covering how fast it is to get in and out, how well-run it is and the general facilities. Motorwayservices.uk uses a weighted total, meaning they take note of what official bodies are saying as well as their users.
Also at the top end were Stirling and Stafford, both of which have an M&S outlet, Burger King, Costa Coffee, showers, and a children's play area, suggesting customers are demanding higher quality from their pit stops. Stafford's lake and outside space was praised, whilst the 'mind-boggling' roundabout off of Stirling was seen as it's only downside.
As well as the main database, the site has a section called 'How things work' which are articles providing background information on different aspects of motorway services. For example, an article called 'biggest and busiest' highlights Cobham as the clear winner.
Opening in 2012 and built over two floors it fills a large gap on a busy section of motorway. Its 36-pump petrol station is one of the biggest in Britain.
However, biggest doesn't always equal best as the station currently has a 3 star rating on the database, being beaten by several stations with 3.5 or 4 stars.
Rugby Service station for example, has 3.5 stars and is run by Moto. Located at junction 1 on the M6, its clean facilities were praised in the comments with one reviewer writing: "Excellent facilities, really clean, only let down is the thinnest loo paper in existence."
At the bottom end of the rated stations is Old Inns Shell, at only 1.5 stars. Located on the M80 at junction 6, the rating is possibly due to its size, being one of the smallest service areas to be signposted from a UK motorway according to motorwayservices.uk.
Weyhill Services near Andover earned a mere 2 stars after several years of being closed and sealed off. It is now home to an BP forecourt with a Spar and Starbucks Drive Thru.
Also receiving a little over 2 stars is Cardiff West, with the site commenting: "It is sadly very difficult to write anything about Cardiff West."