How will the ban on new petrol and diesel cars in 2030 affect the forecourt sector, and can it be achieved? John Wood reports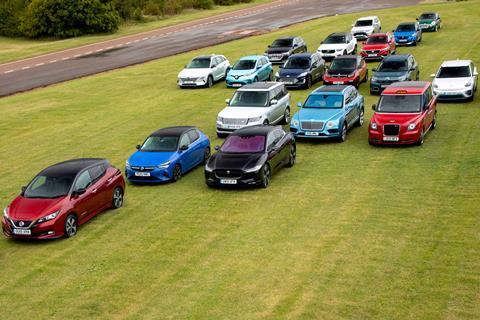 In one sense it came as no surprise when the UK government finally confirmed its decision to ban the sale of new cars and vans with internal combustion engines (ICEs) from 2030 (although some hybrids have until 2035).
Pressure for that date had been steadily mounting for months and the news had been leaked to the media days in advance. But in another sense it signals a huge shock and upheaval, not only to the massive industry devoted to petrol and diesel cars and vans, but also to the way we all live our lives.
There are currently more than 31.6m cars registered in the UK and a further 4.1m light goods vehicles, but only a tiny fraction do not use an ICE. In 2019, 2.3m new cars were registered, and although the number of battery-only registrations doubled, it was only up from 15,579 the previous year to 37,608 – or up from 0.7% to 1.6% market share.
The number of hydrogen fuel cell car registrations also doubled in 2019, increasing from 37 to 80 registrations. This suggests there will need to be a profound change in the types of vehicles produced by manufacturers. But even if manufacturers are capable of producing the cars, the next step will be generating consumer demand for them.
Currently many consumers are put off by the high cost of such cars and range anxiety, which will only be resolved by the development of more charging points.
Early adopters
While some larger forecourts have been early adopters of electric chargers, many more are waiting for the rapidly developing charger market to stabilise, or have been put off by the high cost and low returns currently being earned. In addition, the PRA has warned the government that stringent safety regulations mean many smaller forecourts would not be able to accommodate chargers.
PRA chairman Brian Madderson said: "The PRA supports the process of decarbonisation, but we need a comprehensive plan to reduce carbon emissions that works across industries, including aviation.
"The plan to ban sales of ICE vehicles by 2030 will force the UK to become dependent on Chinese battery technology. Our members strongly feel that government has not done enough to develop low- carbon liquid fuels and hydrogen as an alternative to EVs, particularly when the German authorities are investing €7bn into speeding up the market roll-out of hydrogen technology.
"For context, the French government have announced over €30bn-worth of green funds, yet are sticking with a 2040 ban.
"Technical and commercial challenges remain in establishing the electric charging infrastructure required for mass EV take-up. This is particularly apparent at petrol forecourts where many of our members have abandoned plans to install ultra-rapid charging points. This is due to a lack of local power sub-stations, onerous regulation and lack of return on investment.
"People driving used ICE vehicles are generally those with less disposable income. Penalising ICE drivers who can't afford to make the transition to an EV is no way to foster a new market in alternative fuels and, as ever, the biggest tax burden will fall on those least able to afford it."
The timescale is very tight for such a profound change but Shell's UK boss Sinead Lynch has suggested it could be achievable, if the government adopts the right strategy. She said: "The UK needs a robust framework of enabling policy measures so that industry can prepare to reach this target."
Crucial role
Ian Johnston, CEO of the EV charging company, Osprey Charging, also warned that the government had a crucial role to play. He said: "The private sector is deploying a vast network of reliable and accessible public charging points and the government must also step up action to fund infrastructure in rural areas and create an attractive trading environment for EV supply."
But while the government needs to back its proposals with hard cash, there is an even grimmer problem for Chancellor Rishi Sunak.
Duty levied on petrol and diesel contributed around £28bn to the public purse last year, together with another £6bn in VAT. If this policy succeeds in driving down sales of petrol and diesel, he will have to make up a massive shortfall.
According to The Times, Sunak is considering road pricing – where motorists pay a set amount per mile – as a way of recouping the shortfall. This has provoked a furious reaction from the PRA. Madderson said: "We are deeply concerned about the government's potential road pricing proposals. It is unfathomable that the government would introduce a measure that would only succeed in discriminating against the poorest in society. Public transport infrastructure in rural communities is near non-existent, with millions solely relying on their private vehicles to travel. If the regressive road pricing 'poll-tax like' regime came into force, those living in rural areas on low incomes would be hit the hardest as it could become unaffordable to run a car. This method of taxation has already been rejected by the British public in 2007 when proposed by the Labour government, so it is startling to see that these proposals are even being considered."
The PRA proposes that cyclists and other road users should also be included in any pay-by-the-mile approach and they pay the same rate as petrol and diesel vehicles, as a tiered pricing system would be discriminatory.
With all the obstacles it faces, and a chequered history in predicting how to do 'green' motoring, the government has set a very stiff target. But this ban only applies to new cars, and whether or not it meets it, there are likely to be many millions of ICE cars on the roads well into the 2030s. So while more forecourts may be introducing chargers in the future, they will still need their pumps for a long time to come.
Forecourts still sought after
Christie & Co has reassured forecourt owners about the value of their investments if fuel sales are affected. Responding to the government announcement, it said the forecourt property market is very much driven by retailers seeking to trade in food and drink.
The company said the importance of fossil fuels has been diminishing over time as innovative, often independent, forward-thinking retailers introduce new products and ideas to forecourts, and buyers of forecourts pay for earning potential measured by profitability. It added that there is a direct correlation between profitability and prices achieved. Therefore each site will need to be assessed individually to establish whether profitability has been or is likely to be diminished by any government intervention in the marketplace.
During a recent PRA webinar Christie & Co illustrated how a sustainable reduction in fuel volume due to Covid, but a small increase in fuel margin, added to a modest increase in retail sales, could increase the profitability of a site.
Christie & Co also said that even if the government meets its target it will take a long time to replace all ICE vehicles.