As pressure grows to ban sales of new internal combustion engine and hybrid cars by 2030, the PRA has injected a note of realism about EV chargers on forecourts.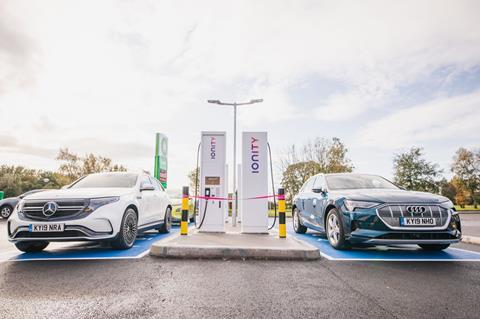 Ever since the Prime Minister announced there would be a consultation on whether the ban on sales of new internal combustion engine and hybrid cars should be brought forward to 2035 "or earlier", there almost seems to have been a bidding war to see who could go lowest. Many commentators in the press are now speculating that 2030 has already been chosen, and even Shell's UK boss Sinead Lynch has suggested it could be achievable if the government adopts the right strategy.
If the press is to be believed, many Conservative MPs now back 2030 as the cut-off date and the Labour Party, which included the date in its manifesto at the last election, has just reiterated its support and suggested such a move would help create thousands of new jobs. Matthew Pennycook MP, Labour's shadow minister for climate change, said: "2030 is an ambitious but achievable date by which to phase out the sale of new petrol, diesel and hybrid vehicles, one that would give a new lease of life to the UK car industry, while combating climate breakdown and cleaning up the air that dangerously pollutes so many of our towns and cities."
This followed an announcement by Kwasi Kwarteng, minister for energy and clean growth, who confirmed that the government's energy white paper, which should include its plans for transport, will be published in November.
Resonate
Meanwhile, the PRA was hoping that its response to the consultation, which explained in detail why even bringing forward the date from 2040 to 2035 could be very damaging for the wider UK economy, would resonate with the decision makers in Whitehall. But there was alarm at PRA headquarters after articles published by The Guardian and the Daily Mail suggested that the Department for Transport (DfT) has received a report from the Behavioural Insights Team on how to boost the sales of electric vehicles. According to these articles, one potential idea from the report which resonates with consumers is to mandate petrol filling stations to install charging points.
PRA chairman Brian Madderson responded with a strongly worded letter to the transport secretary Grant Shapps, warning: "If the media reports are to be believed, then the government is simply not listening to those on the ground who will be tasked with implementing the policy and who will bear the consequences of it."
He told Shapps: "Mandating installation of charging points does nothing to overcome the significant safety and financial issues which are currently preventing widespread adoption across the UK's petrol filling stations… our members will adapt their business to change, but the technical challenges associated with safely installing charging points and the speculative return on investment are prohibitive. Instead, the government should be looking at ways to address the health and safety concerns and to incentivise petrol filling station operators to invest."
He explained that to comply with safety regulations, there are large areas of filling station forecourts where EV charging equipment is excluded due to potentially introducing sources of ignition where a flammable atmosphere may be present. Also, when it is necessary to install an electrical substation to provide an adequate level of supply for faster charging, the requirements for suitable earthing arrangements to ensure that forecourt infrastructure cannot be energised in the event of faults are complicated to calculate/interpret, and require a specialist to carry out earth modelling, the result of which is often to exclude large areas or even the whole of a filling station from being suitable for the installation of a substation.
He added: "In following the accepted UK guidance on the safe installation of EV charging on petrol filling stations, there have been found to be many petrol
filling stations where EV charging cannot be installed in compliance with the guidance. This is particularly (but not solely) the case
when the desired short dwell time of cars being charged requires a substation to be installed to achieve an adequate level of supply."
Blanket requirement
Madderson continued: "It is our belief that a blanket requirement from the government, whereby all petrol filling stations in the UK must provide EV charging facilities, would put many operators in a situation where they could not comply with this requirement and adhere to the guidance accepted as appropriate for ensuring safety on their premises."
He proposed that the DfT should work collaboratively with the industry to:
1: Jointly investigate the regulatory blocks concerning the safe installation of charging points and find ways to unblock them;
2: Understand the issues involved in safely delivering sufficient electricity to a petrol forecourt and work with petrol filling station operators to overcome them;
3: Establish incentives for petrol filling station operators to support the development of the charging infrastructure.
After the forecourt sector did such heroic work keeping emergency workers mobile during the lockdown, and their shops helped feed their local communities, the least the government could do in return is work with the industry to address these very real concerns.