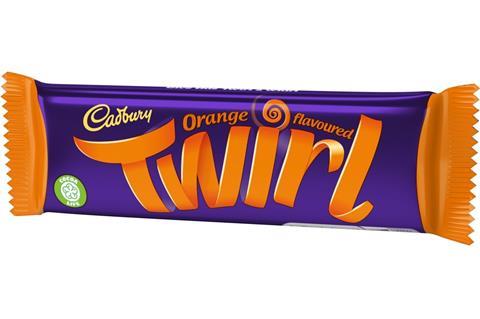 Some of you may have heard of the Netflix series 'Orange is the New Black', the title of which plays on the fact that the drama is set in a women's prison in the US, where all the inmates wear bright orange jumpsuits.
Well over here in the UK, orange may not be the new black but it is our new favourite chocolate flavour.
Of course, orange chocolate is nothing new, for example the Terry's Chocolate Orange has been around since 1932. However, more and more limited editions are being launched in orange varieties: think Orange Twirl, Orange Buttons and Orange Chocolate Fingers.
When Orange Twirl first launched consumers went crazy for it, so much so that many questioned on social media sites whether it was actually available because they hadn't been able to get their hands on one in the shops.
They'll all be jumping for joy now as the chocolate's manufacturer Mondelez has just announced that it's back via a tongue-in-cheek campaign: 'Twirl Orange – the unlimited edition. Exclusively available everywhere'.
According to Nielsen data, Orange Twirl was the number one singles NPD of 2020 and one of the fastest selling chocolate bars of the year. Mondelez says it is aimed at younger adult consumers who are "seeking new flavours and experiences from their chocolate choices".
But Mondelez is not the only confectionery giant cashing in on the orange craze. In the run up to last Christmas, Mars Wrigley launched Galaxy Orange Truffles exclusively in Tesco stores and available now market-wide is the Maltesers Bunny Orange for Easter. In addition, the major relaunch of the Galaxy brand includes the introduction of the Galaxy Orange Block.
However, what's interesting is that the quintessential orange brand – McVitie's Jaffa Cakes – is branching out into new non-orange flavours. Last year it debuted a Pineapple flavour and now it has launched Passion Fruit and Cherry flavours. McVitie's hopes these tangy varieties will bring new consumers to the brand – just like Mondelez and Mars Wrigley with their orange flavoured chocolates.