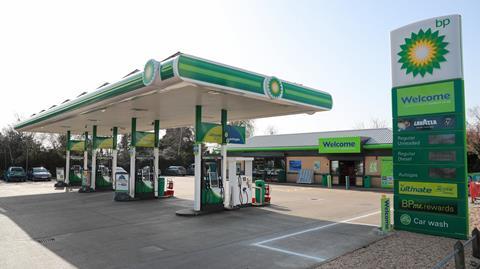 Lawrences Garages re-opened the doors of its BP Sholing Service Station in Southampton on March 23, with a new store that features some cutting-edge technology, including new shelf-edge TV strips called Shelfies.
The re-opening followed a fire last summer where the shop was destroyed and, as a result, the business had to temporarily close its doors. A pop-up shop on the forecourt was used in the interim.
Meanwhile, the Lawrences got to work on re-building their family business in partnership with the Southern Co-op and its Welcome fascia.
Within the new Welcome store there is a revamped food-to-go area at the back of the store which includes fresh pizza from Chicago Town, Rollover hot dogs, Dunkin' Donuts and Lavazza coffee. The area is easily seen thanks to feature-light rigging and spotlights as well as four 50-inch monitors to communicate the range and offers. There is also an area where customers can sit and have a coffee, with power and phone chargers.
LED lighting throughout the store and Pastofrigor cabinets with doors help to reduce the store's carbon footprint. In addition, the store has electronic shelf edge labels which save on paper and ink.
The cigarette gantry is a low-level Navarra unit that links the epos and dispenses cigarettes when the operator touches the epos screen. This frees up space behind the till for a rear-lit spirits display.
A Volumatic cash system is used for banking and forgery checking while ANPR and face recognition technology are used to combat theft on the forecourt and in-store.
Perhaps the biggest bit of new tech though is the new shelf-edge TV strips called Shelfies, which display supplier messaging. They provide extra in-store theatre and catch the eye from right across the store. They are easy to install and are low energy.
BP Scholing has two Shelfies on confectionery, two on soft drinks and two on beers.
Southern Co-operative are using Sholing as a trial for this new tech and plan to roll these out to more Welcome stores soon.