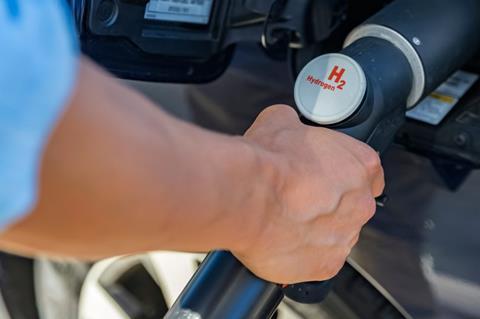 A consortium has been set up with the aim of developing a next-generation hydrogen flowmeter for refuelling Heavy Goods Vehicles (HGVs), making it cheaper and easier to refuel.
Midlands-based Hy-Met will work in partnership with Logan Energy and WMG, University of Warwick to deliver the Hydrogen Prototype Equipment for Refuelling (HyPER) project.
According to Hy-Met, the new hydrogen flowmeter will be lightweight, smaller, more cost effective and more accurate than existing instruments, and will also be easier to manufacture and maintain than current options on the market.
The project aims to reduce the cost of hydrogen refuelling and enable the wider adoption of hydrogen by transport fleets and other users.
Nishal Ramadas, co-founder and CEO of Hy-Met, said: "Since launching Hy-Met in January, we've been motoring ahead with our plans to help with the transition to net zero. With our innovative measurement platform, Hy-Met is combining our deep hardware and software expertise to tackle some of the complex measurement challenges facing the hydrogen sector.
"When building the consortium, we knew we needed partners with detailed knowledge of the requirements for hydrogen refuelling and advanced manufacturing and prototyping capabilities.
"Our choice of project partners was clear and we are very happy Logan Energy and WMG have joined us in tackling this refuelling challenge."
Bill Ireland, chief executive at Logan Energy, said: "Using hydrogen to power lorries is one of the key steps towards helping Scotland and the UK tackle the climate emergency.
"Making the switch from burning diesel to using hydrogen will cut the amount of carbon dioxide and other harmful gases being pumped into the atmosphere.
"There are a number of advancements we need to take before hydrogen becomes commonplace on our roads and one of the crucial elements is making it cheap and easy to refuel.
"For nearly three decades Logan Energy has been at the forefront of developing new and innovative hydrogen technologies both here in the UK and abroad. This collaborative partnership with Hy-Met and WMG is another step towards helping the UK grow its capabilities within the hydrogen industry and the drive to net-zero."
The project has received recent funding from the Department for Transport's zero emission road freight trials through Innovate UK.
Dmitry Isakov, assistant professor at WMG, University of Warwick, said: "Securing this funding from the Department for Transport through Innovate UK will help us to accelerate our work. Working alongside Logan Energy and Hy-Met will allow us all to combine our knowledge and expertise to develop an industry-leading hydrogen flowmeter."