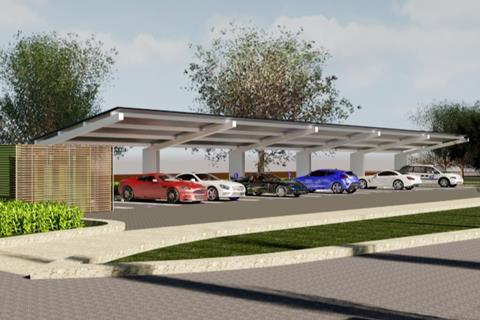 One of the UK's largest fleet leasing providers is aiming to encourage car and van fleet owners to install their own EV charging forecourts.
Novuna Vehicle Solutions has unveiled plans to open a state-of-the art EV charging forecourt to demonstrate to its customers what it can provide, as well as serving as a charging facility for its own employees.
The charging infrastructure at Novuna Vehicle Solutions' premises in Trowbridge will feature 12 AC charging bays that can deliver up to 22 kW of power to fully charge an average EV with a 50kWh battery equipped with a 11kW onboard charger in under five hours. A separate car park on site with four DC rapid charging bays will deliver up to 100kW of power to fully charge a vehicle in under one hour, subject to state of charge, temperature, onboard charger and power available.
Electricity at the forecourt, which will enable 16 electric vehicles to be charged simultaneously, will be generated from a solar canopy over the 12 AC bays combined with a grid connection, enabling an estimated 70% of the energy consumed for employee charging to be sourced from Novuna's own renewable generation.
A 180 kWh battery storage facility onsite equipped with an energy management system will enable storage of unused solar generated energy, allowing the use of peak-saving trickle charging, delivering lower CO2 emissions.
Construction of the EV charging installation works, using lower CO2 concrete and equipment, will feature parking bays designed to accommodate cars and vans as well as accessibility bays and will showcase the full suite of end-to-end EV charging infrastructure capabilities provided by Novuna Vehicle Solutions.
The EV charging forecourt installation is intended to act as a customer reference site and provide fleets with the opportunity to experience first-hand the variety of charging hardware Novuna Vehicle Solutions can implement for fleets at their own depot and workplace sites.
A key element of the installation will include the introduction of a charge point management system and associated driver app, My Novuna Charging, enabling Novuna Vehicle Solutions to manage both its own charging network and its customer's charge points.
The system, which will also grant fleet drivers access to other corporate, private and public networks in the near future, provides a real-time view of charging events and energy consumption alongside remote hardware maintenance for fleets.
Jon Lawes, managing director of Novuna Vehicle Solutions, said: "We are very excited to unveil plans for our upcoming sustainable state-of-the-art EV forecourt at one of our own sites which will encompass the full spectrum of innovative charging solutions we can provide to fleets of all sizes and complexities.
"The combination of both AC and DC charging, paired with solar energy generation and battery storage, serves as both a marker to our commitment to carbon neutrality and demonstrates the comprehensive support we can offer fleet customers right across the EV charging ecosystem, helping them to achieve their net-zero ambitions.
"This charging forecourt in Trowbridge will, for the first time, truly showcase the breadth of our unique end-to-end modular charging capability and demonstrate first-hand the energy management solutions we can offer to fleet customers as a fully-fledged electrification partner in order to future proof their operations.
"We'll imminently put shovels in the ground to deliver this pioneering project and we're looking forward to bringing our decarbonisation proposition to life at our Trowbridge site so fleets can see the full suite of intelligent charge point solutions for themselves."
Novuna Vehicle Solutions, which manages over 140,000 vehicles across the UK and Europe ranging from cars and vans to HGVs and specialised assets, has a goal to fully electrify its entire car and small van fleet by 2030.
Construction will commence this month with completion of the site expected later this year.