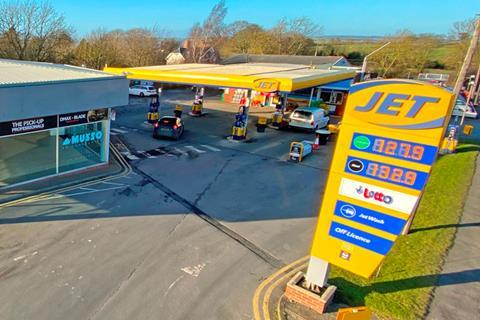 Certas Energy has purchased seven petrol filling stations operated by Marla and Gus Saggu, bringing the company-owned estate to a total of 84 sites.
The portfolio of forecourts located across the North East of England, which was ranked 38th in last year's Top 50 Indies, originally formed part of Bishop Retail, which was acquired by Marla and Gus Saggu in 2012.
The sites, which are currently branded Jet, will be rebranded to Gulf in March, and each shop will be converted into the latest-design Spar convenience store.
Christie & Co was instructed in early 2020 to seek buyers for the sites on an individual, subgroup or portfolio basis. However, following a successful launch with intense initial interest from a variety of buyers, the UK was placed in lockdown in response to the outbreak of Covid-19. As soon as restrictions were eased, a relaunch resulted in multiple offers, not only for individual sites but also on a group basis, with Certas Energy UK emerging as the preferred party.
Christie & Co said the Saggu's have become renowned in the industry for their market-leading business practices, not least in respect of managing their staff who were key to the successful operation of the business. They openly shared their Covid contingency plan during a webinar, which was adopted by others across the industry.
In a statement, Marla and Gus Saggu commented: "This feels like the end of an era, but we are very pleased to be handing over our business and in particular our people to Certas Energy, who we are sure will do great things with the sites.
"We'd also like to thank the Christie & Co team who have worked extremely hard to ensure the sale process that they initiated stayed on track. It's been a pleasure to work with them and we'd thoroughly recommend them to anyone."
Speaking on behalf of Certas Energy, retail managing director Richard Billington said: "We are delighted to have concluded this acquisition of seven well-run forecourts and a highly capable and community-minded team of people. It's a good fit for our business and adds further strength to our company-operation. We already have a strong Gulf presence in the North East and these sites will be an ideal complement to our thriving dealer operation.
"We are taking on a healthy business that will be further enhanced by our stunning new Gulf livery and award-winning loyalty platform, Oomph. Working alongside Spar and with ongoing investment, we expect to see huge potential at each location."
Christie & Co optimised its UK network by managing the sale process through the central projects team, in collaboration with the local team based in the north of England.
Steve Rodell, managing director of retail at Christie & Co, commented: "We are absolutely delighted for Marla & Gus who re-established a well-run and profitable business. They are exemplary clients and were a pleasure to work with.
"Their openness and clarity of information contributed to a smooth process, despite the unprecedented challenges that 2020 threw at us. They are a great example of how to prepare well for a sale process, deal with purchaser enquiries and due diligence replies to complete this transaction. We wish them well with their next venture."
Mark Kaluza, director of corporate projects at Christie & Co, said: "We are thrilled to have assisted Certas Energy with the expansion of their company owned estate and rapid increase in fuel volume through the acquisition of a free-of-tie portfolio."
Andy Birnie, director in Christie & Co's north retail team, added: "This instruction attracted buyers from across the UK to the North East – a variation from previous years and something which we attribute to the limited supply of forecourts which are available to buy at present."
The seven newly acquired forecourts are located in Bishop Auckland, Crook, Howden-le-Wear, South Shields, Stockton, West Rainton and Witton Gilbert.
CND Parker acted on behalf of Marla and Gus Marla Saggu, and Pinsent Masons LLP acted on behalf of Certas Energy UK.