Following a review, the Cheema family confirm their return to the Costcutter brand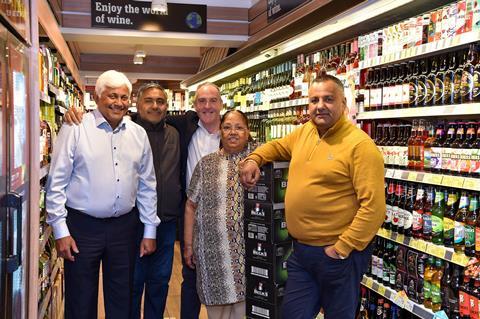 Forecourt and convenience operators, the Cheema family, have confirmed their return to the Costcutter brand.
The multi-award-winning family from Tile Hill in Coventry, which has recently celebrated 40 years in the business, has two stores in Coventry - Malcolm's, Elm Tree Avenue and a second at Malcolm's Texaco forecourt Tile Hill.
The Cheema family began their retail journey with Costcutter and successfully traded with the leading symbol for over 20 years, during which time Paul Cheema chaired the Costcutter Retailer Board.
Malcolm and Baljit Cheema started the family business and run both stores together with the support of their family, son Pinda and his wife Mandy and son Paul and his wife Davinder alongside their loyal and longstanding team.
In 2014, at the height of the P&H supply challenge period, the family joined Nisa. But now, it has reviewed its offer and moved back to Costcutter, as it looks to enter a new period of growth and development while meeting customers' fast-changing needs.
Paul Cheema, who regularly provides input and interviews to the trade and media on matters impacting the convenience and forecourt sector and most recently was interviewed by BBC regarding the fuel price crisis, said: "When we made the change to Nisa, we had some serious reservations around leaving the team at Costcutter, who had been by our side for 20 years, but felt we didn't have a choice at the time. When we saw that Costcutter had joined the Bestway family we knew it was the right time to re-join the brand that had been pivotal in our road to success.
"And we're now relaunching our offer to our loyal customers, working with colleagues who we have known and trusted for many years, and are excited to be back working with a family-owned business that mirrors our own values. This is especially important to us in today's marketplace where range, value and price are critically important to the consumer."
The Cheema family has entered into a new, long-term, trading agreement with Costcutter, and the two stores have moved into the Bestway Retail supply chains.
Plans are now being put into place to completely modernise Malcolm's, Elm Tree Avenue store as well as taking a fresh and innovative approach to Malcolm's Tile Hill Filling Station store.
Dawood Pervez, managing director at Bestway Wholesale said that the Cheema's move back to Costcutter reflects the fact that the much-loved symbol brand is truly thriving within the Bestway family, offering retailers what it believes to be the best support package in convenience and independent retail.
"We're delighted that Malcolm's family stores are returning to us at Costcutter," he said. "We're very aware that this decision has not been taken lightly but has been very carefully reviewed over many months as the business looks for the next step in its journey.
"The business is operating within a market that is experiencing change in consumer behaviours and turbulence in the market in line with economic challenges and we know we can support them and accelerate growth collaboratively.
"Together we have been working closely to create the convenience model of the future that offers opportunity and value to both the retailer and the consumer. This is about delivering the right range, at the right price, in order to deliver the very best value to the stores' customers.
"We also know that 'one size does not fit all' and we have put in place merchandising and promotions in line with each site's bespoke demographics.
"The Cheema family is highly entrepreneurial, and we all wish them every success as we work together for success in the future – here's to the next 20 years!".
Jamie Davison, business development director at Bestway Retail, added: "We have some exciting developments under way for each of Malcolm's stores. The refit of the Elm Tree Avenue store will include the introduction of the specialist Bargain Booze store 'within the store', in addition to a new kitchen concept with a ramped-up Food to Go offer, including the launch of additional new ranges that we know consumers are looking for."
Paul went on to explain the family's reasons for re-joining the Costcutter brand. "We wanted to come home to Costcutter for many reasons. We are excited about the ability to access the wide range of products available via Bargain Booze, Costcutter, Co-op and Bestway supply chains and being able to maximise availability. In these challenging times it will be pivotal to provide our customers with an exceptional offer whilst achieving our profitability expectations as a business.
"Finally, and most importantly, support is an essential factor for us as a family within our business and working with likeminded people that are relationship focused and passionate about supporting independent retailers is exactly what we want, and we believe it's a core strength of Bestway Retail. It has the best offer in the business.
"Put simply, we are pleased to be coming home to Costcutter and are excited for the future."
Paul Cheema and his brother Pinda Cheema will join the Bestway Retail Multisite Working Group and will attend the next November meetings.