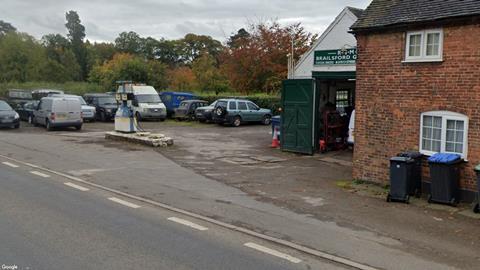 Ross Molloy, who owns RGM Brailsford Garage in Derbyshire, has appeared in newspapers and online saying that he owns a 127-year-old forecourt but he cannot afford to fill up his vehicle with his own diesel.
However, that's not the real story he wanted to tell.
Ross told Forecourt Trader that he was approached by a local reporter who was after a story about the high prices of fuel and retailers profiteering from it. Ross talked to him but his story was heavily edited to fit the reporter's brief. The irony is that even if Ross wanted to fill up with his own diesel he couldn't because his pumps are out of action, as they were damaged when someone drove into them.
"This not a new story about fuel prices," says Ross. "The last time I had diesel a forecourt near me was selling it for 12ppl cheaper than me because they could sell it for cheaper than I could buy it. My workshop makes me the money; the diesel is just an added service for locals."
Ross says one of his problems is that suppliers would like him to buy more fuel and then he would get a better deal. He has the storage space but his fuel volumes are low and modern fuel does not keep very well.
However, the story Ross wanted to tell was about changes to who can buy red diesel which will hit his sales. He currently has one pump for white diesel and one for red but from April 1, most of the vehicles which are currently allowed to run on red diesel will be banned from doing so.
"The last time I was selling diesel (which was in December) I was making 3ppl on white diesel and 8-9ppl on red diesel. My pumps need repairing but I am having trouble finding someone to do the work. It would be easy for me to simply stop selling diesel at all but I like to offer the service, plus there's the fact that we're the oldest service station in Derbyshire and I would like to keep that going if I can."