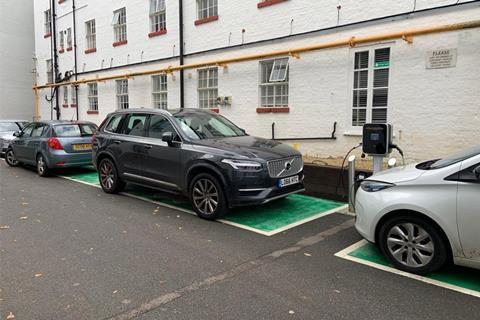 Ealing Studios is partnering with Good Energy's One Point service to install three electric vehicle (EV) fast chargers at its base in west London.
The three 22 kilowatt fast chargers, installed by Good Energy's One Point partner RAW Charging, are spread across two locations on site. The investment is designed to support Ealing Studios' employees and clients, including A-list actors. Good Energy will operate and maintain the charge points over an initial three-year period.
Ealing's Studio Manager, Charlie Fremantle, said: "Demand for electric vehicles will only increase as more sustainable and more affordable models come into the market. Productions are increasingly looking at sustainable business models and at Ealing we are leading the way in offering genuine green solutions."
Juliet Davenport, CEO and founder of Good Energy, said: "Ealing Studios is showcasing how the creative sector can take meaningful climate action. Britain has a world-leading film and TV industry, but it's also energy intensive and often reliant on dirty energy. Good Energy's One Point service is designed to make it easy for businesses to offer EV charging, while further cutting emissions with 100% renewable power."
The investment is the second pilot project for Good Energy's new One Point service, which simplifies EV charging for businesses by offering a streamlined, all-in-one package. The first project saw four charge points installed at Watergate Bay Hotel in Cornwall.