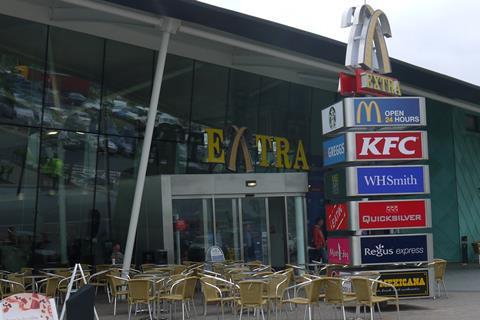 Extra's Cobham Services on the M25 have been rated as the clear winner in a survey of motorway facilities released by Northgate Vehicle Hire.
The company says that with overseas travel restrictions still in place, two thirds of us are estimated to be planning to stay in the UK this year, meaning millions will be taking to UK roads over the coming months driving to their summer holiday destinations.
It says service stations are just as much a part of long journeys as playlists, car games and arguments about directions, and suggests that 45% of motorists will plan their service station stops before a journey.
"It is clear that facilities on offer at service stations are imperative, as stopping for food or drink, taking a driving break and using it as a toilet stop were the top reasons for planning a visit," says the company. "To put an end to service station despair, we've analysed the facilities of 100 locations across the UK, taking the following factors into account:
Parking cost
No of Parking spaces
MSO 2020 Score
Food
Shops
Hotel
Hotel Rating
Charging point
Showers
Arcade
Play area
Wi-Fi
It concludes that the UK's service stations overall are pretty good - 98% have showers and 97% electric vehicle charging points. But Cobham scores highly 86.6/100 thanks to a huge number of parking spaces (4,620) and its vast choice of food outlets, including Nandos, Leon and Starbucks. Motorists can also pick up a few groceries from M&S Simply Food, Shell or Londis. And if for something to entertain the kids, there's also a WHSmiths and a Top Gift. For short-term entertainment, there's also a play area.
Coming in second, with a score of 83.9/100, is Beaconsfield at junction 42 of the M40. Another Extra service station, it boasts a range of facilities – such as KFC, El Mexicana, Greggs and Pizza Express, an array of shops, and a play area. In fact, Beaconsfield only lost points on the number of parking spaces as it has around a quarter less than top rated Cobham, with 1,210 spaces. And just like Cobham, drivers on the M40 might need a spot to take a break - the same survey that found the M25 was the fifth most-hated motorway, rated the M40 as the second worst motorway - beaten only by the M11.
The Midlands services of Peterborough round off the top three, with a score of 72.6. Located on the A1 (M), it has fewer eateries than ther top two, and boasting 400 spaces, has much less room for drivers.
Cambridge services on the A14 and Strensham on the M5 complete the top five, with scores of 69.5 and 69.4 out of a possible 100, respectively.
For those heading to Scotland, the company recommends stopping at Gretna services: "Eighth on our list, it has everything on our list, minus the play area. You can choose from one of the six eateries, four shops and even stopover in the 3.5 star rated hotel. If you're not going quite that far north, Leeds Skelton Lane on the M1 is a safe bet. It may not have an arcade like Gretna, but it does boast a play area to help kids burn off some of that holiday excitement and plenty of shops and food places to grab a quick bite.
"Those heading to the south west coast may want to plan their journey around Membury service station in East Devon. Found on the M4, it is costly to park (£15!) but has a variety of facilities that will leave you feeling refreshed and ready to jump back into your car."
For motorists planning on travelling on the M40, with an average score of 72.4 points, this motorway ranked the best for available service stations. This was thanks to a solid score from Beaconsfield services, which was second on the list overall. London's M25 places a respectable fifth, and the motorway that connects London to the north, the M1 came in 13th.
It said motorists hitting the M23 in Surrey, however, aren't in for a good stop, with an average score of just 33.9.
Northgate concluded: "The average rank of all service stations was a steady 55.10, yet the Extra services come out on top as the most consistently high service station provider with an average rank of 67.5 across all sites."