Independent forecourt operator Gardner Garages Limited has signed another site to the Texaco brand. The addition of City Service Station in Hereford brings the current number of Texaco-supplied sites run by the family-run business to four. Their first site - Gardner General Garage in Huntley - joined more than 20 years ago.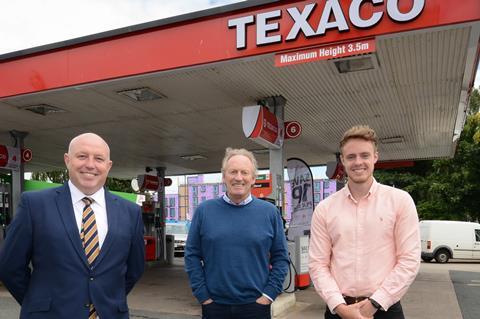 The three existing sites, Gardner Cheltenham Service Station, Gardner Westgate Services and Gardner General Garage have also recently signed long-term renewals.
The company's chairman Clive Gardner said they were keen to offer their customers a brand they knew and could trust to deliver a service their customers have come to expect from them: "The ability to have open dialogue and excellent communication with decision makers within the Valero organisation has proven invaluable over the years as has the reliability of their fuel ordering and delivery service," he said. "It's reassuring to know the level of support and service we will receive on signing up another site to the Texaco brand."
City Service Station, which was previously Harvest branded, features a Londis convenience store, Costa coffee and stocks three grades of fuel including Supreme unleaded. However Clive, enjoys the challenge of transforming sites has bigger plans for the future of this site. He intends to knock it all down and create a forecourt for the future, with all grades of fuel and improved community-focused facilities such as a small café with a Wi-Fi area.
The business is also committed to helping out in the community, and for many years has undertaken fundraising activities to support the Pied Piper Appeal, a local charity that helps makes a difference to the lives of sick and disabled children in Gloucestershire. During the current COVID-19 crisis the business has also donated £2,500 to help a local primary school and cat rescue centre after seeking nominations from the local community.
Andrew Cox, Valero's director sales and marketing, said, "Our relationship with Gardner Garages goes back many years and we're delighted to have teamed up with Clive again as their fuel supplier for their latest location. I've no doubt the site will be successful and Clive's plans for the future will be well supported under the Texaco brand."
Gardner Garages is run by Clive, his daughter Emma Gardner (md) and son Ashton (operations director). Clive acquired his first Texaco site in 1996; and following different phases of sales and acquisitions over the years, the portfolio now comprises five sites - one branded BP and four Texaco, with the purchase of another petrol station in Gloucestershire nearly complete.