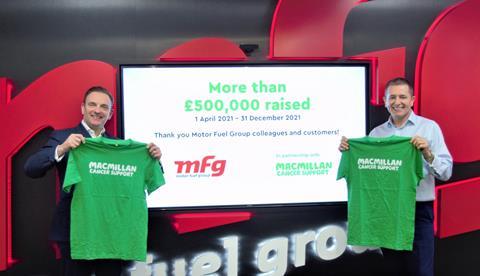 MFG has revealed it has raised more than £500,000 for Macmillan Cancer Support since it announced its partnership with the charity in April 2021.
The milestone has been achieved through MFG customers donating at the company's 900-plus sites across the UK and fundraising activities by MFG's employees and contract managers.
Becky Ettinger, head of corporate partnerships at Macmillan Cancer Support, said: "We are so grateful to the team at Motor Fuel Group for their incredible support throughout the past nine months, and we'd like to say a huge thank you to all its employees and customers for going above and beyond to help raise this incredible amount.
"Being diagnosed with cancer is scary and right now it might feel scarier than ever due to the impact of the Covid-19 pandemic. Our partnership with MFG is playing a vital role in ensuring we can continue to do whatever it takes to be there for people with cancer when they need it most, and to help people live life as fully as they can."
MFG CEO William Bannister said: "We are delighted to reach this significant milestone of raising £500,000 for our charity partner Macmillan. We would like to say a huge thank you to all our customers who have donated so generously over the past nine months for this incredibly important charity, which provides vital support to so many people in the communities MFG serve, and across the UK. We are extremely proud that we have been able to raise these vital funds, and we look forward to continuing this partnership throughout the year.".