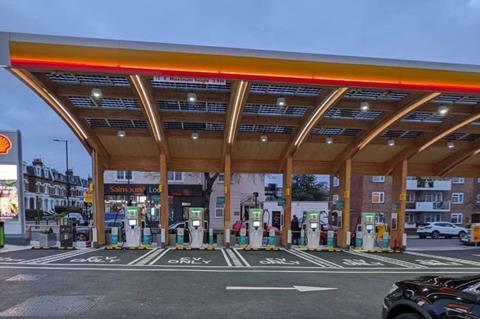 Shell has opened its first electric vehicle charging hub in the UK, at Fulham in West London.
A Shell spokeswoman confirmed that the site had opened but said the company would be releasing more information at an official launch in January.
In a pre-launch presentation the company said it was converting one of its conventional fuel service stations into an electric vehicle charging hub that would feature 10 high powered, 175kW charge points, although one of the first users clamed on Twitter there were only nine.
Shell's preview added that it would offer a comfortable seating area for waiting EV drivers, and there would be a Costa Coffee store and a Little Waitrose & Partners store to enable customers to enjoy a beverage or a snack, pick up dinner or stock up on essentials while they wait.
The hub features a sustainable design with solar panels built into the roof to generate renewable electricity for the site. The hub's canopy is constructed from sheets of timber glued together which uses much less energy to produce and transport than steel.
The site is equipped with Tritium chargers and Christian Hewitt, head of sales - Australia/New Zealand at Tritium, posted pictures of it on LinkedIn and commented: "Get ready to see the future of 'petrol stations' as Shell launches its Fulham EV charging hub, a complete redesign of a former petrol station! It looks incredible!"