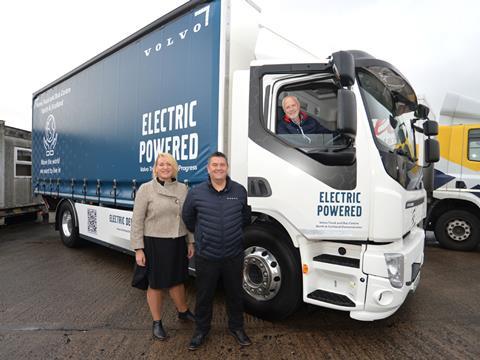 The Scottish Wholesale Association and Volvo Trucks have set up a partnership with the aim of accelerating the use of electric vehicles in Scotland's wholesale industry.
The partnership aims to boost uptake, and identify, highlight and eliminate barriers to low-carbon transport solutions in Scotland's wholesale industry and wider food and drink sector.
Glasgow-based wholesaler JW Filshill and other SWA members are participating in a trial of Volvo's electric 19t curtainsider truck with rear tail lift. Filshill has taken delivery of a truck this week and will test it for a fortnight to explore the feasibility of using it in their business in the future.
Ylva Haglund, SWA head of sustainability and engagement, commented: "We are committed to supporting our members on their journey to a more environmentally sustainable future as we accelerate the transition to net zero and progress towards a circular economy.
"Our aim is to inspire and facilitate action and increase awareness of the ways in which our members can move towards fleet decarbonisation and a further seven SWA members have already signed up to participate in the trial.
"We are delighted to be collaborating with Volvo, one of the world's largest and best-known truck brands, whose knowledge and expertise in electric trucks will be hugely beneficial to SWA members and the wider food and drink sector as we work together to find the best solutions."
Garry Whitelock, truck sales director for North and Scotland at Volvo Trucks, said: "We've been working with SWA for some time now and in March we partnered with the association to hold an Electric Vehicle Experience event to offer members detailed insight into the electric vehicle and infrastructure market.
"This provided participants with an opportunity to drive one of the UK's first all-electric HGVs and also provide access to Volvo engineers who were able to answer questions about EV technology.
"We're very much looking forward to strengthening our relationship with the SWA and its members as we seek to achieve common goals surrounding our environmental and sustainability targets."
Keith Geddes, chief financial and operating officer at JW Filshill, said the wholesaler was keen to explore all possibilities as it ramps up its commitment to sustainability and continues its drive to produce cleaner emissions.
Just two years ago, Filshill upgraded its fleet of vehicles when it invested in the region of £600,000 in five bespoke vehicles – three 18-tonne and two 26-tonne lorries – as it strives to reduce its carbon footprint. More fuel-efficient than older trucks, these additions to the fleet meet the latest Euro 6 specifications.
"We're very pleased to be working with the SWA and Volvo in this vehicle trial and hope it encourages other wholesalers to do the same," said Geddes. "The industry cannot make sweeping changes overnight and there are cost implications to consider but we all have a duty to engage and look to the future – this is exactly the type of activity that can help us on our journey."
Last year, the SWA launched its industry-leading Decarbonisation of the Wholesale Sector project as part of plans to decarbonise the wholesale food supply chain and achieve net-zero emissions by 2045, or earlier.