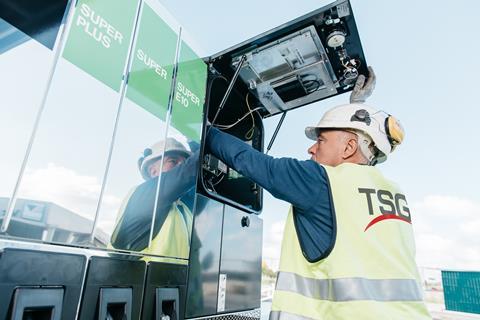 Equipment is the lifeblood of business and must be kept running at peak efficiency to satisfy customer expectations and maintain operational profitability. Nowhere is this truer on the forecourt where pumps, jet washes, air and water and now EV charging are typically what drivers enter your sites for.
Paul Davidson, operations director at TSG UK Solutions, says they recognise the importance of effective preventative maintenance to minimise downtime on retail forecourts, backed up by a discretionary 24/7 emergency service for those unexpected breakdowns. But theirs is not a one-size-fits all approach.
"TSG customers are able to choose a service and maintenance arrangement that best matches their business needs and budget. For instance, a five-day maintenance plan between the normal working hours of 8am to 5pm may be sufficient for smaller operations. Larger networks may prefer a six or seven-day scheme, with the option to upgrade to a 24/7 call-out service if required," explains Davidson.
"Emergency cover can be crucial for busy sites to help maintain the smooth flow of traffic through the station and avoid congestion at peak times. One call to the TSG customer services team and a technician can be on the premises within a four-, six- or eight-hour time frame, depending on the terms laid out in the agreement. In some instances, by special arrangement, the technician will arrive on the site within 60 minutes of the initial call and conclude the repair in less than four hours. Suffice to say, there are an infinite number of variations in the support levels available with a TSG service contract since they are all tailor-made to suit core business requirements."
Davidson adds that networks of 50 sites or more will be assigned a key accounts manager to attend to the more challenging needs associated with larger enterprises. "The key accounts team is there to not only take care of the clients' service and maintenance requirements but also to act in an advisory capacity, offering guidance on system/equipment upgrades or enhancements to their service plan."
Margaret Erwin, head of forecourts at Moto Hospitality Ltd, says TSG UK was selected to take care of Moto's service and maintenance requirements approximately six years ago, after a stringent tender process. "Besides securing a competitive price, one of the key drivers of this decision was to ensure that the chosen supplier would be able to fulfil and sustain specific criteria designed to satisfy our customers' expectations.
"We adopt a very 'hands-on' approach to the service and maintenance of our extensive network of motorway service stations and as such, communication is central to a successful working relationship. TSG ticks all of the boxes and has demonstrated a real understanding of our business needs. I am very happy with the response times and the service we receive – TSG has always delivered on its promises."
All TSG field technicians undergo intensive, ongoing training to maintain service consistency across the board, while keeping abreast of product updates and the latest industry technology. To prepare the team for the fast-approaching transition to greener fuel alternatives, essential coaching is currently underway on LNG, CNG, electricity and hydrogen. "These comprehensive training programmes ensure that the service provided by TSG meets exacting consumer standards and safeguards its position as one of the leading service and maintenance providers in the business," explains Davidson.
He adds that many site issues, such as a faulty pos system or inaccurate tank gauge, can be identified and resolved remotely by TSG's diagnostic specialists. "Remote diagnostics are becoming more commonplace in the industry, as new technological advancements are radically changing the way we work. In some instances, the fault can be diagnosed prior to the technician visiting the site, resulting in less disruption for the staff and alleviating equipment downtime."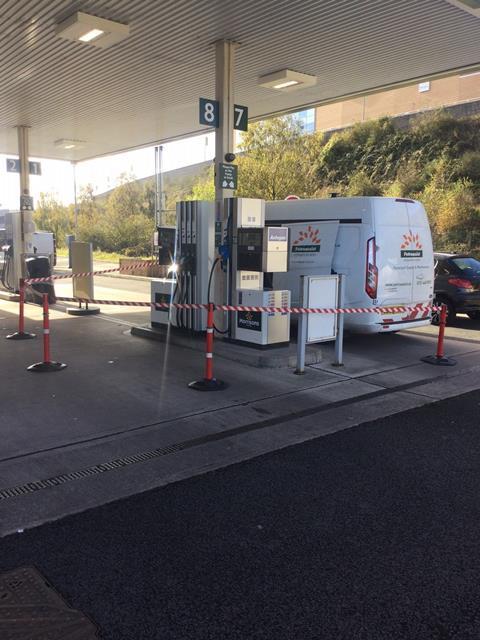 Unique requirements
Barry Onions, head of sales for UK and Ireland at Petroassist UK, also understands that not all petrol stations are the same and so each retailer will have their own unique specifications and requirements.
"At Petroassist UK we work with our customers to understand and implement a customised maintenance plan that is perfectly aligned with your business allowing you to increase your profitability," he says.
"If you are a fuel station owner or manager, you know that having a robust and effective equipment maintenance plan is essential to the success of your business. A well-functioning and well-maintained forecourt not only retains customers, but also attracts new ones. That means increasing sales and improving your brand image. But, unfortunately, it is not uncommon to come across fuel stations with poor maintenance with a very tired appearance making them very unappealing to potential customers."
He says a way to avoid this and increase your forecourt's appeal is via Preventative Equipment Maintenance.
"Only with a proactive maintenance plan is it possible to identify or even anticipate potential problems, as well as significantly reduce the risk of major breakdowns and costly repairs. With regular inspections, maintenance and cleaning routines your fuel station will not only remain operational but will also be optimised for peak performance."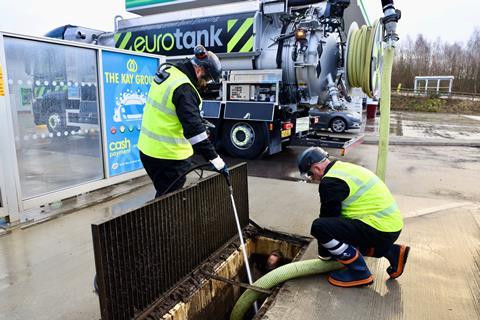 Maintaining drainage
According to Eurotank Environmental, maintaining drainage is one of the most important aspects of forecourt maintenance. Exposure to the elements and wet weather can lead to the flooding of drainage systems, which can cause severe disruption of services to customers. Eurotank Environmental recommends a six-monthly interceptor and drainage maintenance and cleaning service to prevent the build-up of contaminants and debris to significantly reduce the risk of flooding.
Susan Duncan, Eurotank Environmental's operations manager for interceptor drainage services, says: "The accumulation of oil, silt, debris and other contaminants within an interceptor increases the risk of forecourt flooding and the risk of pollutants contaminating the sewerage system or watercourse.
"The build-up of flammable residues in forecourt drains is another risk to be avoided as spillage is inevitable in all fuel and oil-dominated environments," she adds. "Even the smallest drop of oil is enough to contaminate vast expanses of drainage and the watercourse. Forecourts with jet washes also see drainage systems requiring regular maintenance.
"Visits conducted at regular intervals and this pro-active approach of pre-planned maintenance ensures there is no loss of service hours for the business and customers get a continuous service."
Eurotank provides all customers with photographic evidence and confirmation of how much waste has been removed to give site owners both peace of mind that the clean has been carried out to a very high standard and proof of compliancy in the event of an environmental incident.
An interceptor and drainage maintenance visit can also be combined with a jetwash bay valeting service, enabling customers to make cost savings by having one supplier provide multiple services during a single visit.
As well as large forecourt construction and installation projects, Eurotank Environmental's sister company Eurotank Installations undertakes a range of smaller fabric repairs on petrol stations. One of the common issues detected on site is when drainage channels become damaged and turn into a trip hazard. A quick repair is often to fill it with concrete to remove the hazard but Eurotank's group sales director, Jack Aplin, strongly warns against this approach: "It blocks the drainage run and could potentially render the drainage system redundant in the event of a spillage. Instead we recommend that the damaged drain be replaced and the surrounding concrete made good again."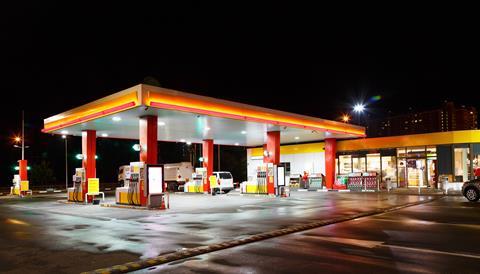 Attracting transient customers
While most forecourts will have their regular customers, they also get transient customers on their way through the area.
Paul Harrison, projects director at DRB UK (a TSG UK Company) , says a good first impression is a forecourt's ticket to the continued success of attracting transitory drivers and is vital for encouraging loyalty from existing customers.
"It stands to reason that the site's exterior is the first thing that drivers notice, so a dirt-stained façade is far from ideal. Potential customers may view neglected premises as a negative reflection of the business as a whole. This concept extends to the signage, canopy, store frontage, car wash, lighting, EV charge points and fuel dispensers, as well as the forecourt itself.
"The majority of site owners recognise the importance of organising regular cleaning sessions on the forecourt, surrounding areas and in the store. As part of a daily routine, staff can remove litter from the site, empty the bins, attend to minor spillages and dust the shelves in the shop, alongside periodic checks of all public spaces including the washrooms.
"This type of chore, while tedious, is essential for all retail environments to maintain business values and ensure the safety of customers visiting the site. However, staff cannot be expected to tackle the more challenging areas of the forecourt that may require professional third-party intervention."
One such area is the canopy and Harrison says a canopy in tip-top condition has the ability to attract visitors from a wide catchment area, increase site and shop traffic and consequently boost profits.
"The canopy should be clean and well-illuminated, with clear, strong branding to appeal to passing motorists who need to refuel or stock up on essentials from the convenience store.
"Due to their inaccessible nature, canopies and fascia panels are often overlooked by site managers and, as a result, experience an unsightly build-up of grime and particulate matter.
"Moreover, cobwebs and dust will gather on the canopy lighting, making the site gloomy and unwelcoming, especially when combined with broken or defective lamps that need to be repaired or replaced. All of these elements can detrimentally affect the site's throughput and inevitably give rise to a fall in both fuel and shop sales. "
He adds that canopy maintenance is best handled by a team of specialists, who have the requisite experience in the petrochemical industry and the right tools for the job. "At the site owner's convenience, these professionals can help restore the canopy, lighting and fascia panels to their former splendour."
Signage too needs special care as Harrison points out that unkempt signs in poor condition can adversely influence the customer's perception of the business.
"All forecourt signage should be kept clean and free from rust, to extend the lifespan and prevent long-term damage. Tears or vandalism should be attended to immediately and where repair is not possible, the sign will need to be replaced. A proactive approach to sign maintenance will help preserve the authenticity of the brand and safeguard the site's reputation."
Then there are the pumps: "Every day, dispensing equipment is subject to scuff marks, fuel drips and fingerprints, and should be wiped down and checked for damage at the end of each day," says Harrison. "Unfortunately, this daily cleaning routine is not sufficient to keep the equipment in first-rate condition and ought to be supplemented by an intense cleaning schedule, during which the branding decals can be checked and replaced as necessary."
He continues: "The busier the site, the more likely it is that the concrete surface of the forecourt will suffer oil and fuel spills, especially in the immediate proximity to the dispensing equipment. The area can also become littered with gum and other hard-to-remove waste, which may ultimately lead to customer complaints or lost business. A specialist deep clean will re-energise the business and present a professional image to its clientele."
TSG's Care & Protect solution, which is carried out by carried out by TSG company - DRB UK Limited, is an intense cleaning and maintenance programme for all site equipment, including dispensers, EV chargers, car wash facilities, lighting, canopies, forecourt and signage. Harrison says it has been designed to meet the needs of modern, multi-functional forecourts, revitalising ageing sites and restoring newer or refurbished sites to their original status.
"Care & Protect is a simple and affordable proactive approach to preventative maintenance, keeping forecourt equipment looking and operating at its best, extending its lifespan and presenting a polished appearance to staff and customers alike.
"By selecting one trusted supplier for all inspections and remedial works, site owners can stay in control of maintenance costs and reduce the possibility of unplanned callouts and unforeseen downtime."
Before a Care & Protect contract can be prepared, each forecourt must undergo an extensive site survey to identify areas of concern that would benefit from TSG's intense cleaning and maintenance service. The proposed service level will be dependent on the outcome of that inspection. Forecourt owners are then able to add or remove elements from the plan before the final course of action and preferred timescale are agreed upon, creating the right package for their site or network.