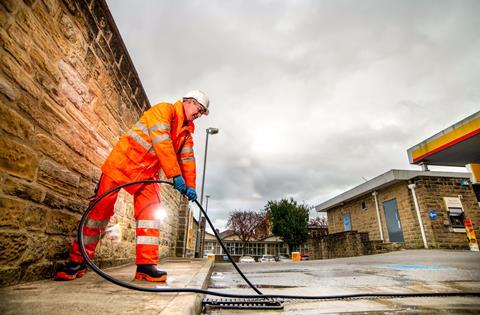 While consumers and retailers are focused on cutting costs – and quite rightly so given the horrendous increases in energy bills, among other things – there are some areas of the forecourt trading environment where cuts could do more harm than good.
We are, of course, talking about forecourt maintenance and planned preventative maintenance (PPM). It might seem like a good idea to cancel your contract or forego your annual inspection, but pumps that are out of action or a canopy that's leaking are no good to anyone.
Eurotank Service Group, sales director Jack Aplin, says there are a lot of challenges when it comes to site maintenance, not least of all with older equipment, but the Eurotank team can usually overcome them. "Looking after your equipment is paramount as you want to extend its life for as long as possible.
"This is where regular maintenance really comes into its own. There sometimes seems to be a reluctance to support aged equipment and instead just replace it with new equipment. However, we will always do our utmost to keep systems working for as long as possible."
Aplin says there can be issues getting parts but adds that ESG has a warehouse used for storage, where they are able to test then store often obsolete equipment as well as current models to allow them to pass on low-cost parts and service. "Sustainability is important to us, so we try our hardest to keep things working," he explains. "We did this recently with a customer who was told that nothing could be done to fix his old pumps, but our team managed to source some parts and keep the pumps running."
He says ESG's multi-skilled engineers' expertise really helps: "Having a UK-wide network of engineers means a wealth of information is always easily at hand, so if the engineer on site is not sure about a piece of equipment, he'll always know someone who does."
Inspections
Andy Kennedy, business development director at canopy experts Global-MSI, says they recommend regular planned maintenance inspections for two reasons. "Firstly, it means you will be aware at an early stage of any potential issues on your canopy. If this is done regularly then you can also keep a track of any problems and assess what repairs are required and when. Early intervention is always cheaper to rectify than waiting until it needs doing urgently.
"Secondly, having records of maintenance and checks being carried out will help with insurance claims if you do happen to suffer a canopy failure. Some insurance companies are already asking for this."
Kennedy adds that regular maintenance schedules can be far cheaper than you think. "If the survey is carried out by a trained technical canopy engineer, they can often carry out small maintenance repairs at no additional cost on the survey attendance. We always advise that you don't leave minor repairs until they become major or urgent incidents. That small leak means the canopy integrity is already breached and wherever water is getting in, corrosion is taking place."
He also advises only using reputable canopy companies for repairs and not just opting for the cheapest quote. "One issue we come across regularly is poor quality of remedial work. It may be because the client doesn't see what the repair looks like, or cost restraints have driven the 'cheapest quote wins' decision. It is the cheapest for a reason. Ask probing questions as to what the damage is, what the repair entails and exactly how it will be carried out. Ask for photographs of the problem so you can see what it is and use common sense to judge whether it looks a long-term repair. The cheapest job in the short term, may not be the most cost-effective or in the best interest of the canopy's lifespan."
Global-MSI often gets called back to survey canopies where a quick and cheap fix has been carried out, but it is short term one. Examples include rubber liners fitted to gutters (which never last very long) or long runs of gutters that have been cut into short lengths to transport in a transit van to reduce cost. This can result in multiple leak points in your brand new gutter, says Kennedy.
"The cost of canopy repairs can vary greatly depending on the work required and size of the canopy. The key point is the earlier the intervention then the less the amount of money you need to spend. For example, a simple survey and gutter clean for a few hundred pounds can save a later gutter replacement costing several thousand pounds. Using only trained personnel to work on your canopy roof may cost a little more but can save you several thousand pounds later to replace dented roof sheets damaged by an untrained contractor."
Kennedy says that as you would expect with a metal structure, corrosion is the biggest concern with canopies. "Corrosion rapidly increases where either the paint coating is damaged or where trapped water is keeping the structure damp. One very common problem we find is dented roof sheets, caused by operatives having walked on the canopy roof. This may not be evident until there is a leak (sometimes several years later) as trapped water eventually causes corrosion holes in the roof sheets. Another problem is blocked drainage causing an overflow into the canopy legs, leading to corrosion from the inside. As you can imagine, the legs are the main support and need to be structurally sound to ensure structural stability."
Canopies being hit by high vehicles is another big problem. "We sometimes wonder if the large vehicle drivers ever take notice of height signs. When canopies are hit, it can often damage the internal parts. That is why we would recommend a proper structural survey after the event, not just a patch up of the signware. If it was your car you were dealing with, wouldn't you want to make sure the chassis was straight and undamaged underneath and not just get a quick filler and paint job. It is the same with canopies. As MSI has its own branding company (Petrol Sign) the group can quickly implement a full emergency repair solution and get the problem solved quickly and efficiently."
Separate issue
Separators are essential for avoiding pollution on forecourts where oil or other hazardous spills are a risk. Designed to trap harmful substances before they enter the surrounding area, separators can become blocked and their filters saturated, stopping the flow of water off-site or causing contamination to the local environment. Sites that do not keep separators in good working order risk flooding and downtime, while facing hefty fines for non-compliance and prosecution
If the surrounding area is polluted.
Shirley Miles, head of environmental protection services at Adler and Allen, warns that there has been a marked increase in fines over the last decade, especially for large companies which have not kept their separators in good working order. "Businesses can be fined up to 100% of their pre-tax profits and, in certain circumstances, senior officers of offending businesses have been held personally liable. Beyond the obvious financial fallout, organisations must also deal with ecological, legal and reputational damage. The onus is on operators to demonstrate compliance with regulations to reduce the risk of a pollution incident. A robust asset maintenance programme is essential for providing the information needed for service log scrutiny in the event of an incident or during routine environmental inspections."
Miles adds that over the past few years, the number of pollution incidents either caused by failed separators or exacerbated by a loss of containment has increased.
"Regulators are increasingly clamping down on poorly maintained and non-compliant operations. In order to help its clients, we utilise our full knowledge and experience in implementing various maintenance packages based on site-specifics and client requirements.
"A separator alarm system monitors oil, silt and liquid levels within underground separators, ensuring they are operating correctly and preventing pollutants. We can specify, supply, install and service oil separator alarm systems and provide the necessary services to ensure your alarms work properly."
The company can provide a full 'peace of mind' service package, appropriate to the separator type and setting. She explains that the six-monthly inspection should be a non-intrusive, 'in-service' inspection to check levels and functionality of key components.
"The five-yearly integrity inspection is a critical service, as several faults can develop within the body of the tank. These include fractures, displacements, and groundwater ingress that can compromise the tank but are not possible to detect during a six-monthly inspection. The five-yearly inspection is an 'out-of-service' survey. However, due to the adoption of cutting-edge technology and methodologies, Adler and Allan will usually complete the service within a day, causing minimum disruption. Operators are provided with complete records of inspection and testing to satisfy regulatory and standard auditing requirements."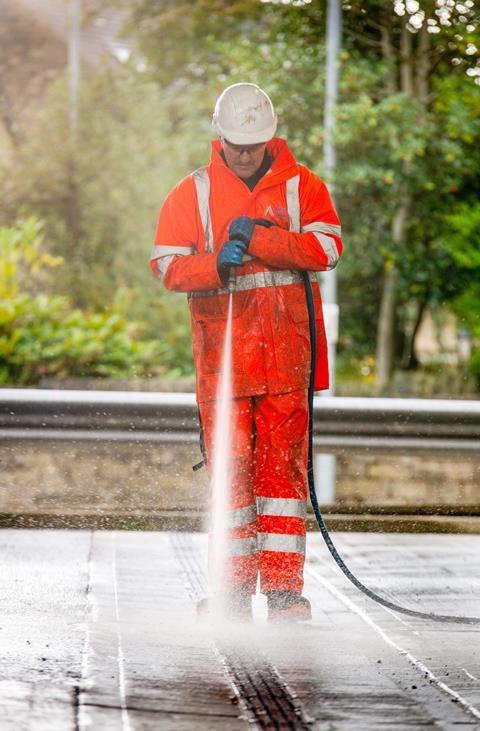 Separate good practice from bad
Separators can form an integral part of a tertiary containment strategy as they are designed to trap harmful light liquids before they enter the surrounding area. The current applicable standards and good practice are BS EN 858-2:2003 and GPP3 use and design of oil separators. Shirley Miles, head of environmental protection services at Adler and Allen, says regular separator maintenance is essential to keep all pollution prevention equipment working at optimum efficiency. Separator maintenance, including separator cleaning, also provides the information needed for service log scrutiny during environmental inspections. The current standard by which separators should be operated and maintained is BS EN 858-2:2003 Separator systems for light liquids (eg oil and petrol). It states that separators should:
Be fitted with an automatic warning device/high-level alarm.
Be serviced and maintained as a minimum on a six-monthly basis.
Be subject to a maximum interval of a five-yearly integrity test.
Have full service and maintenance records available for inspection.
CIRIA C736 is the current good practice guidance documentation for the design, inspection, and maintenance of containment measures to prevent pollution.
It has been designed to assist operators meet the statutory obligation under the Control of Major Accident Hazards Regulations 2015 (COMAH) and the Environmental Permitting (England and Wales) Regulations and associated regulations. It applies to the containment of a wide range of inventories and to all sizes of sites – from small commercial ones with a single storage tank to large chemical sites.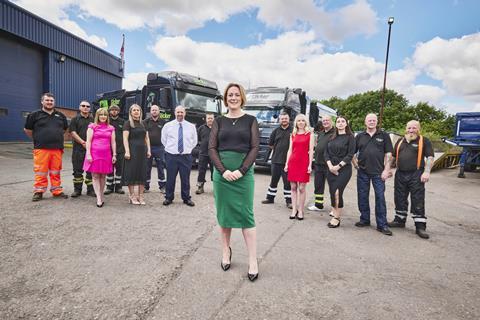 Worcester-based firm offers a Slicker solution
Slicker Recycling, which specialises in the collection and recycling of lubricating oils previously used in motor vehicles and machinery, has revealed a variety of promotions and appointments within its 18-strong interceptor team. As an example, on the operations side, Lennie Hamilton has been appointed as operations manager. He has over 20 years' experience in the industry.
Slicker's interceptor team offers a nationwide service for the cleaning and maintenance of interceptors and surrounding drainage. Supported by a team of drivers and high-performance vacuum tankers, its engineers service, maintain and repair most types of petrol and oil interceptors in businesses such as petrol forecourts, tool and plant hire businesses and car dealerships.
Laura Carter, joint managing director of Slicker Recycling, said: "We have an exceptional team here and our ambition is to grow our current and future customer base in a range of industries. It is also vital that we continue to listen to our customers so we can constantly improve our offering, our approach and our service on the interceptor and drainage side.
"I am looking forward to overseeing our growing interceptor team which is made up of experts from vastly different backgrounds which really helps set us apart as we work to ensure customers are constantly aware and acting on their environmental obligations, including the cleaning and maintenance of interceptors.
"With a huge range of talent and skill sets we are well-positioned to underline our strong reputation ever further in the months and years ahead."
Slicker says it is important that interceptors are periodically examined to ensure they are in working order. Its technical teams can inspect the structural integrity of interceptors to ensure there are no defects. They will ensure that all aspects, including baffle walls and filters, are operating as they should.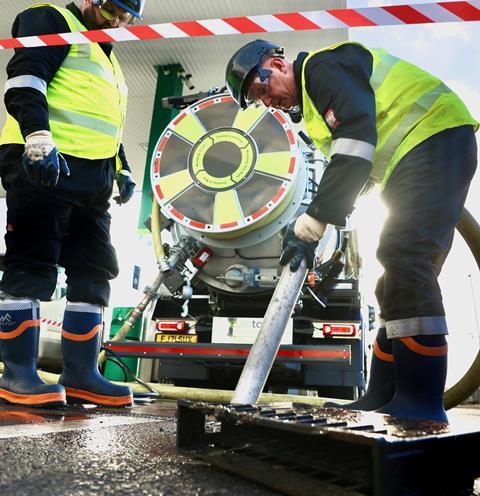 Drainage cleans slash reactive callouts for Sewell
The Sewell Group has cut reactive callouts for blocked drainage since having its interceptors and drainage cleaned by Eurotank Environmental.
In a six-month review of service performance, Tom Farrow, operational team lead at Sewell Facilities Management, which manages the maintenance of Sewell on the go forecourts, revealed that the need for reactive callouts had completely dropped over the past six months.
"We hadn't been happy with our previous interceptor cleaning company so we decided to give Eurotank a trial and I'm glad we did," said Farrow.
"Reactive callouts have reduced dramatically at the majority of our sites since Eurotank carried out interceptor cleans.
"Where we have had to use Eurotank's reactive service they have been responsive to our needs, ensuring the highest quality service."
Part of the Eurotank service is to high-pressure-jet the lines after sucking out the interceptor and wash pits to ensure there are no blockages.
"The previous contractor did not complete a full site clean, instead solely focusing on the interceptor," explains Farrow. "Eurotank's thorough regime cleaning all channels to the interceptor is impressive."
Eurotank cleans the interceptors and drainage across 26 sites in the Sewell estate, including the Sewell on the go forecourt network as well as some schools and healthcare premises.
Sewell on the go has 13 forecourts across East Yorkshire. Its South Cave site won the Forecourt Trader of the Year Awards in 2016. This year its Sutton store is a finalist in the Best community Engagement category of the Awards.