Welcome Break's Charnock Richard Services on the M6 in Lancashire was left without electricity on 16 February as Storm Dudley hit the North West.
National Highways, the agency that manages England's major roads, warned motorists that this was affecting the Texaco fuel station and EV charging points as well as on-site retailers and advised people to use alternative services.
Power was eventually restored but the services had to be temporarily closed as it could not operate.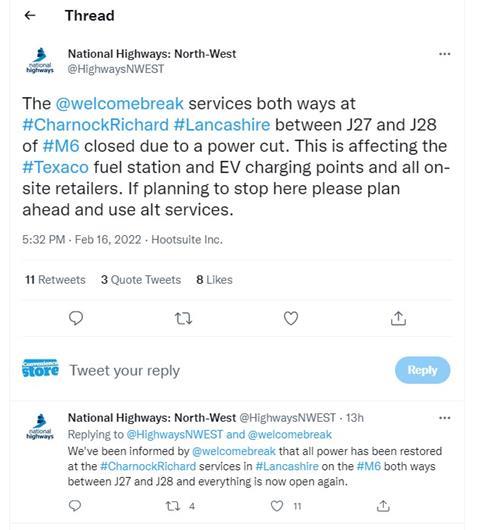 This comes after yellow warnings were in place in Lancashire from 1pm on February16, and Electricity North West prepared for powercuts.
Sam Loukes, incident manager for Electricity North West, said: "We've been monitoring the weather for several days and started to plan ahead of the naming of Storms Dudley and Eunice.
"The forecast is for extremely strong winds and throughout the week. We'll have local teams on standby and they'll be ready to respond quickly, our customer team will also be available for support and we'll be providing regular updates through our social media channels and website.
"While we do as much as we can, falling trees and other debris can still cause damage to the network. If people do see damage to the power network because of Storms Dudley and Eunice this week, firstly, they must stay away as equipment could still be live, and then immediately call us on 105 so we can make the area safe."
As part of the amber weather warning, the Met Office say that people should expect fallen trees and that there is a good chance that power cuts may occur, with the potential to affect other services, such as mobile phone coverage.