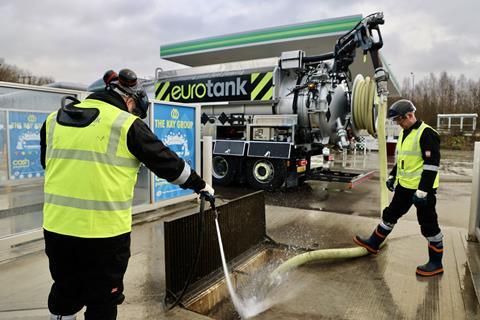 Top 50 Indie The Kay Group has awarded Eurotank Environmental an annual contract for its interceptor, jet wash silt trap cleaning, and waste removal.
Adam Howard, operations director at The Kay Group commented: "With currently 84 jet washes across our network of 20 sites and growing, it is of significant importance that the jet wash facilities meet our customers' expectations. It is therefore vital for us to ensure that we are operating these services consistently at maximum capacity at all times.
"We have chosen to work with Eurotank who are able to meet our demands. Eurotank have demonstrated their reactive capabilities to my great satisfaction, swiftly reacting to last minute schedule changes to meet our retailing demands.
"I have been delighted with the sites visited by Eurotank to date, both in terms of the quality of the cleaning and by the friendliness of the Eurotank staff to our on-site management."
Susan Duncan, operations manager for Eurotank's interceptor and drainage division, added: "We are delighted to have been awarded the Kay Group contract. Silt trap cleaning is vital to the efficient running of forecourts with car and jet washes. We recommend that sites have it done twice a year to prevent any build up causing puddling or even flooding on-site."
Eurotank states on its website: "All forecourts are exposed to the elements and wet weather can lead to the flooding of forecourt drainage systems, which, in turn can cause severe disruption of services to customers.Additionally, the accumulation of oil, silt, debris and other contaminants within an interceptor increases the risk of forecourt flooding and the risk of pollutants contaminating the sewerage system or watercourse.
"Forecourts with jet washes also see drainage systems requiring regular maintenance. Eurotank's drainage and interceptor maintenance and cleaning services eliminate the build-up of contaminants and debris to significantly reduce the risk of flooding."