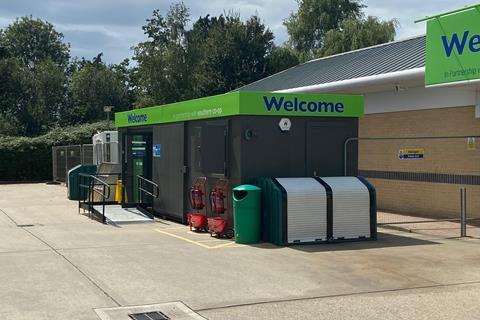 Lawrences Garages Group is reopening the newly refurbished shop at Sholing Service Station at the end of March after it was gutted by a fire last summer.
The BP site, in Southampton, was closed for a month but since then the team have been operating out of a temporary building in front of the old shop.
Director Ben Lawrence told Forecourt Trader: "The shop wasn't knocked down because the structural damage wasn't too bad, but everything was just stripped back to its bare walls, so the last six or seven months we've been building it back internally and a new roof has been put on."
Approximately £60,000 worth of stock had to be thrown away because of smoke damage.
"Behind the scenes we've just been with insurance companies and contractors, building the site back up," continued Ben. "Then we used a company called Bowshers who are in Wales as our shop fitters, and they started in mid-January and left about the first week of March. So they weren't here too long, they got all their guys in here and the shop is now done."
Ben said trading out of the temporary premises had its challenges. "I was happy to only be fully closed for a month after the fire, and good to be up and running in the unit in front of the old shop, but fuel sales did dip by 10 or 15% which I can understand. It's because we stopped becoming a one-stop shop, a destination, so we essentially just became a small petrol station.
"Luckily car washing and valeting wasn't affected – we have contactless on the jet washes and things so people can drive up and use these services without coming into the shop."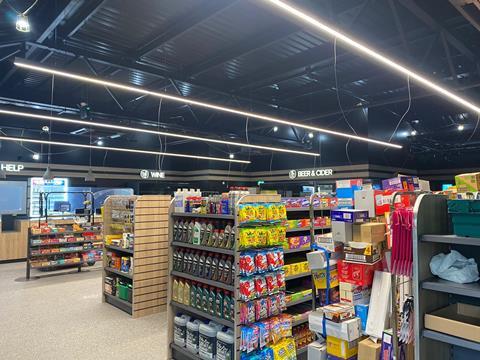 The shop, with Southern Co-op 's Welcome fascia, will officially open on Wednesday 23rd March.
Ben said: "It's definitely exciting, but it's more that realisation of eight weeks of hard work has paid off.
"Because the staff have been great. They've been patient, and they're wanting to come back in to the main building, every time they come inside to have a look they're so impressed. I think that they're very happy that they're associated with this store because it looks lovely. I just can't wait for the customers to see it really."