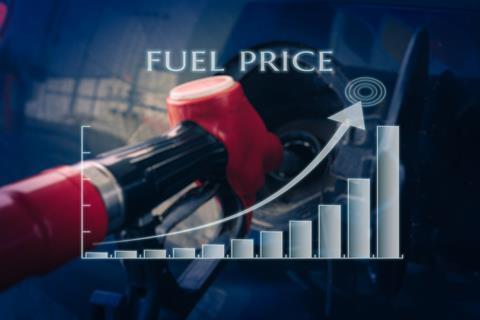 A staunch defence of fuel retailers is under way this week by the Petrol Retailers' Association, following press reports at the weekend that the Prime Minister is to target 'rip-off' forecourts.
This has been followed up by news that Secretary of State Kwasi Kwarteng has apparently 'parachuted' in a new chairman to join the board of the Competition and Markets Authority (CMA) "amid a war on rip-off petrol stations as fuel prices hit new highs", according to the Daily Telegraph.
PRA executive director Gordon Balmer defended fuel retailers and erroneous fuel price information when challenged on GB News yesterday by presenter Nigel Farage. When told that his members were 'ripping drivers off' Balmer responded: "Quite the contrary – our members are not ripping them off. In fact, if you took a delivery of fuel today for petrol, for example, and you were priced on a lagged basis from yesterday's price, you'll be making a loss.
"We have offered on a number of occasions to go and meet with the government and explain how prices work, but to date we're yet to hear back from them," he stressed.
Brent Crude had shot up to $123 a barrel, following the EU announcement of drastic reductions in the amount of Russian oil it buys. But when challenged with how prices at the pump did not follow the RAC-quoted wholesale prices – Farage quoted 144ppl for petrol, and 134ppl for diesel, reasoning that diesel should be cheaper than petrol at the pumps, he said, but was 15ppl more expensive – Balmer questioned the figures and was later proved to be right, as the figure for diesel was actually 143.82ppl.
The PRA's figures are supplied by Fuel Prices Online who are a distributor of market data sourced from S&P Global Market Insights (Platts).
"I don't recognise those figures, which anyway don't include all the costs," said Balmer. "This is why we want to speak to the Government, as they seem to be taking advice from a motoring organisation – perhaps they'd like to come and talk to the professionals!"
Meanwhile, Balmer has yet again written to Kwasi Kwarteng re-iterating an offer to meet up and discuss the matter properly.
"I was surprised to read that your colleagues (or sources close to them) have been briefing the media that the Prime Minister is apparently now "at war" with parts of the petrol station sector," he wrote.
"While I appreciate that headlines and stories can be overwritten to sell newspapers, I wanted to check that you had seen my letter on 18 May in response to yours, in which I reassured you that the fuel duty cut had been passed on?
"It would appear that either your Ministerial colleagues have not received the reassurance, or they do not believe it, or perhaps you have not explained it to them, or they do not understand fuel pricing, or they wilfully misrepresent the facts to deflect responsibility for rising prices onto others?
"I reiterate what I said in that letter: "We share your concerns about the increase in prices at the forecourt and can assure you that the fuel duty cut has been passed on".
Balmer explained that how fuel prices are calculated on a wholesale basis and are then reflected at the pump is a complex matter: "Price differentials arise because in a dynamic and competitive market the wholesale price of fuel changes daily. Other factors which influence pump prices are the $/£ exchange rate, the pricing platform weekly average or daily lagged prices and when fuel is purchased by the retailer.
"There had been some speculation that the retail price of fuel should be regulated. I can only see this resulting in higher prices for the consumer or – in the case of prices being held down artificially low – a closure of forecourts and restrictions on fuel supply.
"We are concerned that your officials do not understand the market and I have offered to meet with you and your officials together with one of our members, to ensure they understand all the factors that feed into the retail fuel price. To date, you have not taken us up on this offer."
The price of petrol moved up to yet another record by averaging 173.02ppl at the start of the week with diesel stood at 182.58ppl.
RAC fuel spokesperson Simon Williams said: "The EU's decision to ban the majority of Russian oil imports will cause the barrel price to go higher still, spelling yet more misery for fuel prices in the UK. The wholesale price of petrol has already been increasing due to the increased summer driving demand which means we are likely to see average forecourt prices for petrol climb to 180ppl in a matter of days. Sadly, far worse will follow as the current oil price of $122 will likely lead to an average price of a litre of unleaded hitting 185ppl.
"Diesel too is set to jump this week as the wholesale market starts to price based solely on non-Russian diesel. This, along with the rise in crude, is set to take the average price of diesel towards 190ppl.
"We badly need the Government to take more action to ease the increasing burden on drivers. It seems very unfair that the Chancellor should be benefitting by around 30ppl in VAT from sky-high pump prices when hard-pressed motorists are struggling to make ends meet. As VAT is a 'tax on a tax' applied on top of 53ppl duty, it means drivers are paying 82p to the Treasury on every litre of petrol, so around £45 of the cost of filling a family car is currently tax."