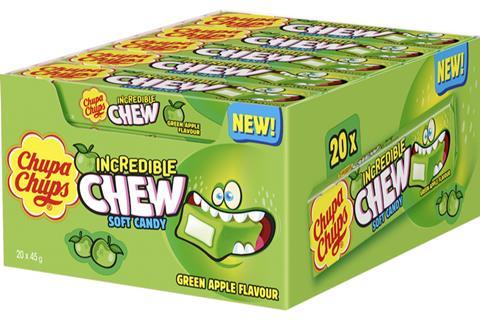 Lollipop brand Chupa Chups is diversifying further into the singles market with Chupa Chups Incredible Chew.
Incredible Chews have a long-lasting soft chewy texture and are available in three flavours – Green Apple, Orange, and Cola.
Already available in Australia, Chupa Chups Incredible Chew will debut into the UK market in August 2022 in a 45g stick format.
Each piece is individually wrapped allowing consumers to keep them in their bag, pocket, or desk or they can be used as an addition to a party bag or Halloween trick-or-treat bowl.
Kate Howe, brand manager of Chupa Chups UK, said: "Chupa Chups has been making the most playful sweets in the world since 1958, and we are excited to be building on the foundations of this iconic brand and expanding our wrapped singles offering with Incredible Chew, the perfect portion-controlled pocket-money sweet that delivers a long-lasting taste sensation.
"Adding Incredible Chew to our portfolio means that we can deliver the taste that Chupa Chups' customers love across a range of textures, formats and price points, variations that always entice shoppers in the confectionery category."