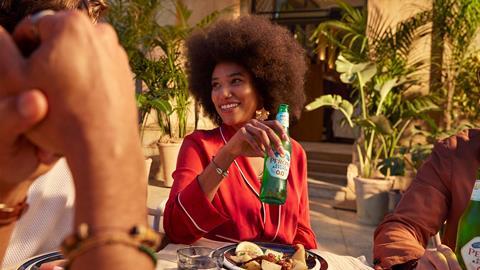 Everyone likes a drink, right? Well, apparently not everyone. According to the Health Survey for England, 2021 (published in December 2022), 79% of participants reported that they had drunk alcohol in the last 12 months, and 49% reported that they drank alcohol at least once a week. So that leaves just over 20% who say they don't drink alcohol.
Of the ones that do, more men than women said they drank alcohol and the older you get the more you drink, or so the survey reports. It found that the proportion of people who had drunk alcohol in the last 12 months ranged from 62% of 16 to 24 year olds to 85% of 55 to 74 year olds. Those aged 75-plus drank less than the 55-74s but still more than the 16 to 24s.
The media likes to call Gen Z the sober generation or describe them as 'sober curious' as apparently many of these young people are turning their backs on alcohol.
Luckily for them, there has been a boom in the number of low and no alcohol products on the market. And luckily for forecourts, the low- and no-alcohol beer category offers a major sales opportunity.
Last month Tesco reported that demand for low- and no-alcohol beer had rocketed by nearly 40% in the past two years and sales were now growing faster than any other beer type including draft beers. Now, according to Asahi UK, convenience retailers could increase sales of no- and low-alcohol beer by £660 on average per store in 2023.
The company says that in the grocery multiples, no- and low-alcohol makes up 2.9% of total beer sales, in comparison to impulse stores where it accounts for just 0.7%. Increasing sales of no- and low-alcohol beer to the same share as in grocery would generate £32m in sales for convenience stores (Nielsen). Divided by the 48,590 convenience stores in the UK, this is a £660 opportunity for each store, on average.
Steve Young, sales director at Asahi UK, says: "The category is under-developed in convenience stores, but retailers can fix this by stocking just three key products to create a credible range.
"Retailers should offer Peroni Nastro Azzurro 0.0% four x 330ml as it is the top alcohol-free beer by rate of sale in impulse. Seventy per cent of no- and low-alcohol beer sold in impulse stores is in four-packs, with this format growing at 30%. Single bottles is the second biggest segment with 6% of sales, but this area is declining at -7%. (Nielsen)."
The analysis follows the most successful (Dry) January on record for no- and low-alcohol products with most of the growth coming from new products, with Peroni Nastro Azzurro 0.0% and Guinness 0.0% adding the most value to the category.
Star attraction

One of the latest alcohol-free beers to enter the market is Molson Coors' Staropramen 0.0.
Available in 330ml single bottles and a multipack format, the launch builds on the brand's 11.4% value sales growth (Kantar), after a multi-million-pound investment in 2022.
The brewing team at Staropramen worked for more than two years to perfect a special brewing procedure that could deliver the full flavoured, refreshing, malty taste the brand is known for, while achieving 0.0% alcohol.
Kathryn Reynolds, marketing controller – premium beers at Molson Coors Beverage Company, says: "The number of alcohol-free occasions is increasing and, while there are more 0.0% options available, we know consumers want zero alcohol lagers to still truly deliver on flavour. The expert Staropramen team have perfected a method to offer just that – a full-flavoured Czech pilsner with zero alcohol."
Molson Coors also offers drinkers Cobra Zero, as well as Rekorderlig Alcohol Free and Doom Bar Zero.
Draught experience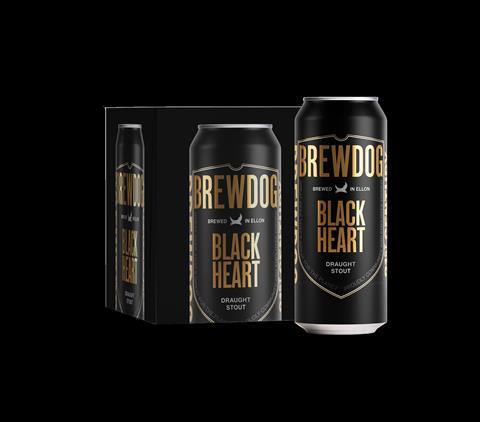 While some younger adult drinkers are going for the low or no drinks, others who choose to drink alcohol are being courted by the big brands.
Craft beer brand, BrewDog hopes to reinvigorate the stout category, opening it up to a younger and more premium shopper, driving penetration and additional sales. – with the launch of Black Heart (ABV 4.1%), its new draught stout.
Available in single 440ml, four x 440ml and 10 x 440ml can multipacks and launching exclusively via Booker in the convenience channel, Black Heart is described as a "no-nonsense dry-Irish style stout".
The stout category is currently worth £150m in the off trade with 93% of those sales coming from Guinness (Nielsen).
Like Guinness, Black Heart features an in-can widget, giving shoppers a draught experience to enjoy at home, in a convenient packaged format.
Alex Dullard, head of customer marketing at BrewDog plc, comments: "Consumer testing and insight indicates Black Heart has the potential to drive further growth into the category and deliver profit for our customers by attracting younger more affluent consumers that have all but given up on the chance of an alternative to the category leader."
WKD moves into cans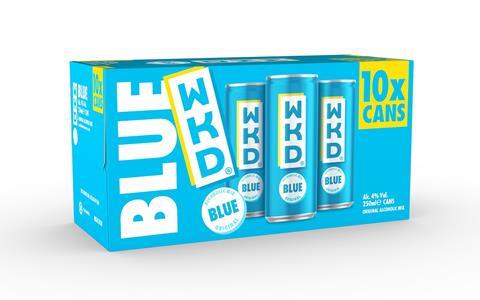 One brand that has no trouble attracting younger adult drinkers is WKD, which boasts being the UK's number one ready-to-drink (RTD) brand (Nielsen). And now, to make the drink more convenient for a wider range of occasions, it is being made available in cans in multipacks.
The 250ml cans are being introduced in WKD Blue four-pack and 10-pack formats, and in WKD variety 10-packs.
Research by SHS Drinks highlighted the popularity of cans among its target consumers and showed that the format is one which drinkers expect to see the category leader represented in. WKD's new slimline cans are recognised by consumers as lighter than glass, more easily portable, unbreakable and a highly convenient drink format for RTDs; respondents also noted the sustainability advantages of aluminium over glass.
Aside from the consumer usage benefits, SHS says the new 250ml cans will help offset packaging industry price rises and allow it to continue to offer WKD consumers better value for money.
The introduction of cans comes at a time when WKD sales are at a 10-year high and the brand leads the field as the number one RTD in both the on- and off trade (Nielsen).
Support-wise, this year sees WKD continuing its association as the Official Alcohol Partner of Love Island.
Another brand that does well with younger drinkers is Lambrini, which is the best-selling perry in the UK. The brand over-indexes with 18-25s as well as shoppers with a preference for sweeter tastes.
It has just been given a new look and is backed by a marketing campaign to boost shopper awareness both in and out of store. Lambrini is partnering with star of Ru Paul's Drag Race, Baby, in a new digital campaign that champions being yourself and truly enjoying life.
Young professionals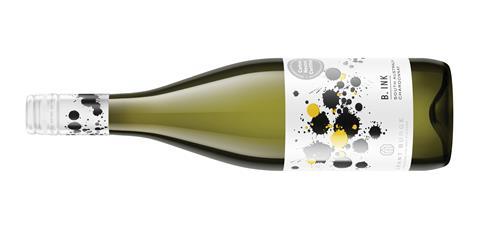 Accolade Wines added a Rosé and Chardonnay to its B.INK, range last autumn in a bid to introduce young professionals to wine.
Anne Uva, brand manager at Accolade Wines, says: "B.INK, thanks to its modern, paint-splatter packaging and bold flavours, appeals to your non-typical wine drinkers, targeting aspirational, food-loving young professionals. We developed B.INK to recruit new consumers to the category, and now we're armed with the full range of red, white and rosé, we're confident we can drive sales and build awareness of this contemporary, new edition to wine shelves."
Another wine brand, 19 Crimes is apparently recognised as the number one millennial wine brand in the UK (Nielsen). Brand owner Treasury Wine Estates (TWE) recently added an Australian sparkling wine to the line-up aimed at recruiting 18-34-year old consumers into the category.