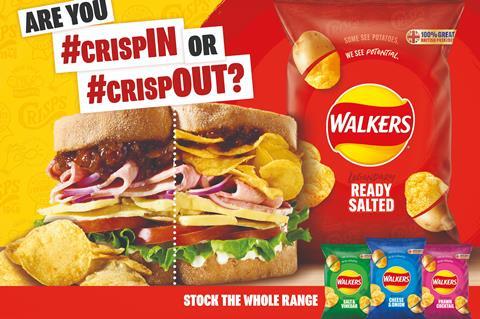 Walkers has kicked off a major marketing campaign to help retailers win at lunchtime, called #crispIN or #crispOUT. The conversational and disruptive campaign will reignite the age-old British debate around the crisp sandwich across multiple channels, as the brand encourages consumers to voice their opinion on their lunchtime and sandwich habits.
Lunch is the number one snacking moment across the day, and is responsible for 40% of all salty snacks consumption. Since sandwiches and crisps go hand in hand, Walkers says this campaign will encourage people to grab a bag of their favourite flavour Walkers crisps with their lunch. With 78% of Brits already enjoying the occasional bag of crisps with their sandwiches, the brand says there is a huge category opportunity to celebrate the love of the classic sandwich and crisp combination!
Philippa Pennington, marketing manager at Walkers, comments: "Walkers has always focused on bringing smiles to the nation and this campaign is no exception. We all know that sandwiches and crisps are a match made in heaven, but there remains a very real, very heated debate about whether you should enjoy your crisps in or out of your sarnie! By tapping into the controversial (but fun!) world of the crisp sandwich debate, Walkers will be encouraging the nation to voice their thoughts – whether that be #crispIN or #crispOUT of the sandwich – and ultimately link the discussion to the Walkers brand.
"Regardless of how shoppers enjoy this lunchtime combination, the campaign will encourage them to pause and think about how their Walkers choice can add the flavourful crunch their sandwiches have been missing."
The campaign will be rolled out across TV, social, PR, and feature social media content from A-list celebrities. As well as being inspired to create their own #crispin or #crispout sandwiches at home, consumers will have the ability to experience the choice in Subway stores across England, Wales, Scotland and Northern Ireland.
In a first of its kind collaboration between Walkers and the sandwich franchise Subway, until May 25, Subway guests will be asked 'WhichWay' they want their Sub when ordering in-store, and will able to choose to add Walkers Ready Salted Crisps as a topping on any Sub, wrap or salad from an extra 20p to create a #crispIN meal.
#crispIn or #crispOut advertising campaign launched on April 16 and will be active for nine weeks until the June 20.