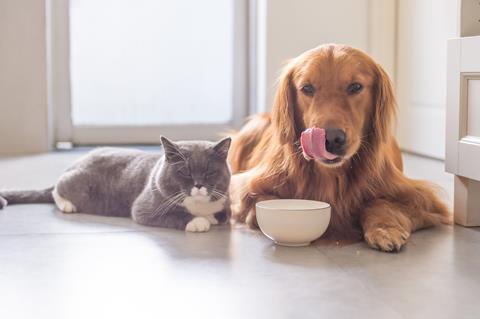 If you thought the cost-of-living crisis was bad for consumers, it's even worse for many pets. During the pandemic, pet ownership went through the roof as people working from home bought fun and furry companions. The prices of pedigree dogs rocketed to eye-watering levels as breeders cashed in on the surge in popularity. But fast forward to today and, according to UK Pet Food (formerly known as the Pet Food Manufacturers' Association) 3.7 million households admitted to giving up a pet last year.
Astonishingly, UK Pet Food's annual pet survey found that only 29% of people considered the cost when taking on a new pet. And 18% admitted that a pet was more expensive than they had thought, with that figure rising further among millennials and Gen-Zers.
According to The Grocer's KVI price tracker, petfood prices in supermarkets have soared with some up by nearly 60% year-on-year. And food bank organisation FareShare is helping pets out by teaming up with UK Pet Food, pet food insurer Petplan, retailer Pets at Home and also pet food manufacturers to help animals hit by the cost-of-living crisis.
All that said, pet ownership is still very popular, with 57% of UK households (16.2 million) owning 38 million pets. The most popular pets are dogs and cats, with UK households owning 12 million dogs and 11 million cats. But there has been a 50% rise in the number of smaller pets – rabbits, guinea pigs and hamsters – presumably because they are cheaper to own.
Food for thought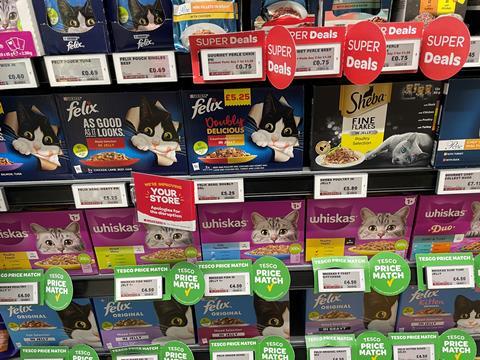 UK Pet Food says the UK petfood market is worth £3.8bn. While most people will buy their petfood during their weekly shop, forecourt convenience stores have a role to play in providing for distress or top-up purchases. To this end, it's all about stocking the big sellers that signpost the category. These would be brands such as Felix, Whiskas, Pedigree and Bakers. And if you can get price-marked packs, all the better as they will communicate value to shoppers.
However, it has to be said that for many pet owners, their dog or cat or rabbit or hamster is very much a part of the family and, as long as they can afford it, their pets will be fed very well.
Many pet owners like to think they are feeding their animals the best possible food, which is why, for example, Nestle Purina's Gourmet is doing so well with its upmarket Nature's Creations and Revelations ranges. Another brand that is riding high is premium player Lily's Kitchen, which is now owned by Nestle.
Cook – for cats and dogs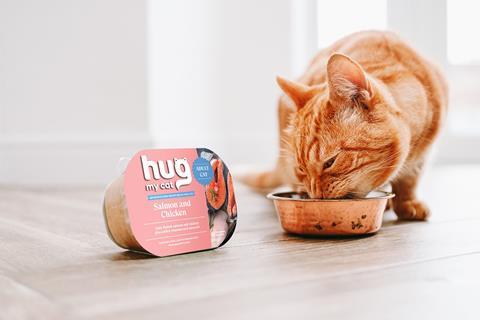 If you really want your petfood range to stand out from the crowd you could consider a niche brand such as Hug Ready Meals, which are microwave meals that mimic Cook human food.
Sara Pearson, joint founder of The Hug Pet Food Company, says they are great for owners who are vegan and vegetarian who don't want to handle raw meat.
Sustainably packaged and frozen, Hug is cooked in the microwave direct from the freezer or thawed first and then cooked. The ready meals are made from human-grade ingredients and comprise prime cuts of meat, fish and fowl (minimum meat content: 70% in HugMyDog and 98% in HugMyCat) with only added organic seasonal vegetables and essential vitamins and minerals. The Hug range contains no bone, offal, grain or other fillers.
The range includes dishes specific to adult dog, senior dog and puppy and adult cat and kitten. Pearson says they are designed to deliver significant nutritional functionality.
"We recognise that today's new urban pet owner frequently has no pet ownership template and references food and nutrition against their own consumer habits. Which is why the concept of a premium and convenient ready meal packed full of nutrients is ideal for their lifestyles."