Time for a check-up. Now, more than ever, it's important to have a tank cleaning and inspection regime. Tracy West reports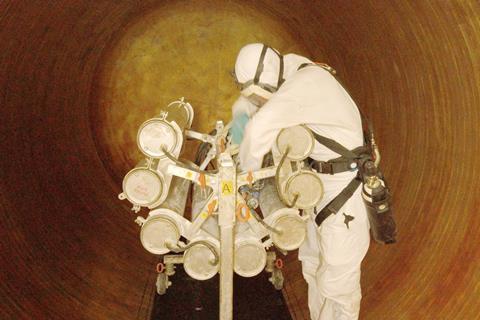 With fuel stock currently turning over slower than usual, there's more opportunity for bacterial growth in your tanks and pipes. Mark Sluman, head of forecourts at Adler and Allan, says that means that now more than ever it is important to maintain your tank cleaning and inspection regime to spot and eliminate problems of microbial contamination in your tanks.
"This type of contamination not only accelerates tank corrosion; it can block lines and filters and significantly reduce the performance of the fuel itself. Experts can inspect and clean your tanks and pipes with remote equipment which removes the need for man-entry, reducing the time on site and disruption to your operation."
Sluman also points out that the bad weather can take its toll on tanks and pipework too.
"A weather event is taking place currently high above the North Pole, which could lead to another 'Beast from the East' hitting the UK with snow and cold weather in the coming weeks.
"If you have small cracks in your drainage or separator systems, ice from the cold weather could expand in them leaving larger cracks once thawed. These cracks could expose your drainage to leaks and spills which could cause damage to the environment.
"Ensure your maintenance is up to date ahead of the cold snap so this isn't an issue for you. Experts can fill cracks and line pipes with a flexible water and hazardous materials proof substance, which is heat and cold resistant to ensure fuel doesn't leak into the environment."
Silver linings
When it comes to tank linings, Eurotank Environmental maintains that there's a particular correlation between quality and price. Alex Lis, operations director at the company, says: "To do things to a high standard requires quality control and robust control measures, which both add significant cost to the installation but ensure the tank lining will last for a very long time and longevity creates value for money."
The company's flagship system, Lifeliner, is a new resin composite tank built inside an existing tank, monitored by a class one pressure monitoring system as standard, and comes with a 30-year warranty. Much of the lining's strength and reliability comes from the application and rather than taking catalysed resin from a bucket inside the tank, Eurotank uses power rollers with resin pumped from above ground. Light cure technology is used so the resin doesn't start curing until a section is finished and the UV lights moved into position. Resin is clear rather than pigmented so air bubbles and flaws in the laminating can be fixed before curing.
"Air bubbles are a big problem for tank linings because they can cause micro cracking due to thermal expansion and contraction," says Lis. "Another important quality control aspect that the power rollers and UV curing ensure is that resin is not over saturated in certain areas. It is evenly distributed during the laminating process and then cured very quickly. This is critical when applying the incredibly strong 3D glass fabric we use for the interstitial space between the two skins. It ensures the space does not get filled with resin so ensures perfect 'communication' for the class 1 pressure monitoring system."
Lifeliner is also available in a single-skin version, which comes with a 20-year warranty. With the existing steel tank as a mould, three layers of hand-laid fibreglass and resin create a new single composite tank.
The lower cost systems available from Eurotank are Sprayliner, Dopa Light and Dopa, which each come with a 10-year warranty. Sprayliner is a single-skin system that uses an epoxy coating sprayed onto the existing steel tank to protect it from further corrosion.
The Dopa Light vacuumed monitored system uses an aluminium interstitial layer glued to the steel tank and a single skin of epoxy resin is sprayed onto the aluminium. Plastic interstitial tubing is used to communicate to a leak alarm installation in the kiosk. The Dopa system is the same but with the addition of an epoxy topcoat for extra peace of mind. Says Lis: "All three systems are quick to install thanks to the epoxy coating being applied using an air spray system to deliver a smooth pastel finish."
But when speed really is of the essence, Eurotank offers Fastliner, a bladder lining system that can be installed inside a tank in a matter of hours rather than days or weeks.
The company uses its Calibex laser scanning technology to measure the exact dimensions of the tank so that tank liners can be ordered for Fastliner installs without having the tanks offline at all.
"The next-day tanks are in manufacture and shipped in time for the start of the project," says Lis. "Highly accurate scans allow us to make perfectly matched liners every time."
Fastliner uses a conductive fleece layer glued to the tank shell as the interstitial layer while the bladder liner is inflated inside the tank and sealed around the tank manway neck. The liner is vacuumed to the pre-existing tank shell and connected to the vacuum monitoring system linked to the tank gauge monitor."
One of the main benefits of Eurotank's tank lining offer is that even Lifeliner can be installed on live sites so that retailers can continue trading throughout. "We keep disruption to retailers and their customers to an absolute minimum by using a container craned into position over the top of the tank manways using our lorry-mounted crane," says Lis.
Accessing data
Finally, Sluman says fluctuations in fuel demand combined with changes in terminal pricing and a shortage in on-site maintenance services, make it critical for fuel retailers to access wet-stock data in real-time.
"A key challenge in the industry is interpreting huge volumes of data. Sales transactions, tank gauge stock readings, ATG alarms – it can be overwhelming and often leads to more waste than efficiency chasing each potential issue.
"Intelligent alarming built into wet-stock software solutions that minimise time and cost invested in chasing false alarms allows retailers
to focus on high-value, preventable fuel loss from delivery shortages, tank chart errors, releases to ground and meter drift.
"With fluctuations in staff and fuel demand, investing in a wet-stock management system with real-time visibility of all aspects of a petroleum retail network including ATG accuracy and functionality, pump-flow rates, delivery validation, wet-stock replenishment, water ingress and other alarms could increase efficiency and help you manage your stock and assets more effectively."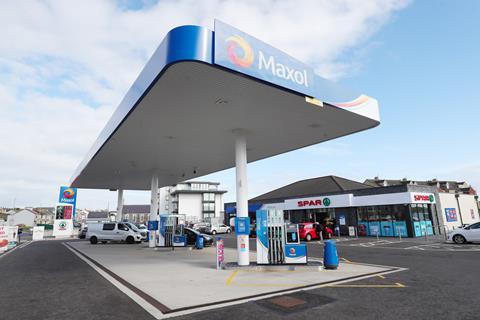 Maxol's premium pump solution
Maxol Portrush Service Station in County Antrim has new Helix 6000 pumps with an integrated injection solution that transforms regular fuels into premium grades. While other fuel companies offer a similar solution for an additional premium grade, Maxol says it is offering a 'global first' – two premium grades using a dual injection system.
The pump blends the additive fuel into the standard fuel as it dispenses and continuously monitors the ratios, shutting down if not correct. The premium petrol and premium diesel fuels offer customers better performance, better power and acceleration, while reducing engine deposits, all from pumps that don't need expensive underground tanks.
Maxol says the response from drivers has been very positive with premium fuel now accounting for 10% of fuel sales and this is increasing month on month. And from March, the company plans to roll out the premium option to more of its sites across Northern Ireland.
The forecourt at Portrush offers both pay-at-pump and pay- in-store.It also has two EV charging stations.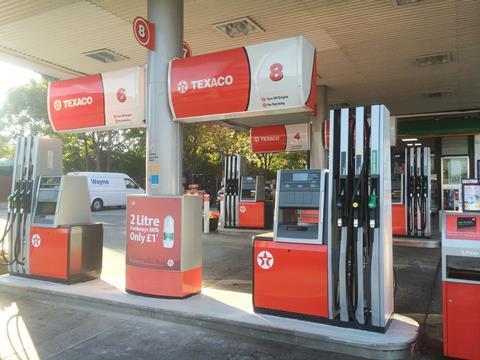 Petroassist-ing you with your pump and maintenance needs
Petroassist UK is the official Wayne distributor for the UK and lreland and as such currently maintains and supports over 80% of the Wayne-installed equipment here. The company's best-selling pump is the Wayne Helix 6000 with over 2,000 units installed in the UK since 2016.
The Wayne Helix fuel dispenser range boasts that it was 'designed for you'. That's because user feedback from across the world influenced the design, with dispensers providing features that motorists asked for such as tilted nozzle holders for easy return. They also benefit from a design that service technicians find easy to maintain.
Mabco Group has been installing the Wayne Helix 6000 range of pumps across its network for the past five years. Owner Usman Patel says: "We really like the Helix 6000 range due to its sleek design which makes it ideal for our forecourts, giving great vision for the cashier of customers filling up. We have found the Helix 6000 to be very reliable and they are first choice when re-pumping our sites."
According to Barry Onions, head of sales, UK and Ireland at Petroassist, the best way to keep your pumps in tip-top condition and working to their full potential is to have them serviced routinely by a reliable maintenance company.
"This combined with regular cleaning to stop build-up of oils and dirt will really help to prolong the life of the equipment and give the customer the best experience while filling up."
When it comes to getting prepared for the introduction of E10 at the pumps, Onions says: "Ask a service company to check for leaks on mechanical seals around pumping units and meters to ensure they are in good condition with no leaks.
"Once E10 has been introduced another check after one-to-three months would also be beneficial on older equipment (over 20 years old) to ensure seals have not been degraded by E10 fuel."