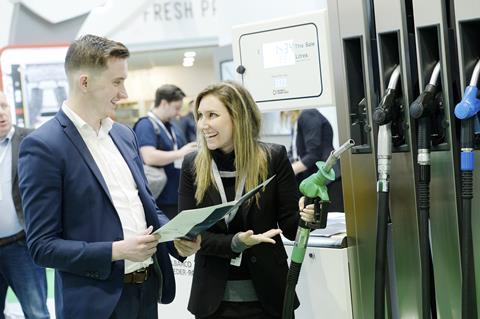 The Forecourt Show returns to the NEC this July (5–7) as part of the UK Food & Drink Shows portfolio.
The UK's biggest trade-only event dedicated to the forecourt and fuel market is a unique opportunity to meet your peers and competitors as well as get the low-down from the sector's leading experts.
Following a 16-month hiatus due to Covid-19, stringent safety and hygiene measures have been put in place and the show will be the first opportunity for suppliers, buyers, experts and decision makers to come together as an industry once again and focus on the future while also celebrating the resilience, spirit and innovation that prevailed during the pandemic. Packed with exciting ideas and concepts, attendance at The Forecourt Show will help you give your site an edge over the competition.
Exhibitors at this year's show include:
Stand C10
Air-Serv provides UK manufactured, air, vacuum and jet wash units and has over 10,000 installed in the UK.
Stand D09
Car Wash Association is an industry body involved in the practice of setting quality and safety standards by promoting best practice and fair competition and is committed to ensuring that environmental, fiscal, health and safety, and employment regulations are observed and, where necessary, enforced. It also provides a robust voice for members with the government and devolved powers to enable appropriate legislation.
Stand B50
Dover Fueling Solutions part of Dover Corporation, comprises the product brands: ClearView, Fairbanks, OPW Fuel Management Systems, ProGauge, Tokheim and Wayne Fueling Systems, and delivers advanced fuel dispensing equipment, electronic systems and payment, automatic tank gauging and wet-stock management solutions to customers worldwide.
Stand D19
Edge Petrol Ltd (Stand D19) is a global fuel pricing software-as-a-service (SaaS) provider which allows customers to get a real-time view on fuel costs, volumes, profits, margins and competition.
Stand C01
Electrajet Ltd offers a complete
range of self-service car valeting equipment including a new innovative Buy Time jet wash which is available
with a contactless payment option – a timely response to the public's changing attitude to cash.
Stand G10
Eurotank Service Group is the parent company of Eurotank Environmental, Eurotank Installations and Europump Maintenance, which together can provide all the forecourt and fuel system services a petrol forecourt needs.
Stand B20
Gilbarco Veeder-Root is a market leader in fuelling products, advanced cloud solutions, petrol management solutions, and payment systems for retail fuelling and adjacent markets.
Stand C59
Gulf Retail the company behind: Fuel Express (unmanned forecourts), Gulf Endurance premium fuel, and Oomph – an easy-to-use platform that can be integrated with existing epos to allow dealers to talk to their customers and tailor offers to specific groups via SMS, email and a dedicated phone app to boost profits and strengthen community ties.
Stand B30
Murco provides a great choice of fuel supply with a range of packages that are competitive, reliable, flexible and designed to help you grow your business. The company can provide Platts-based, margin or price-marker deals.
Stand A59
PFS Fueltec is a supply-only business focusing on helping companies design, build, operate and maintain fuel systems and reduce costs and avoid down-time by providing innovative and reliable fuel- equipment solutions.
Stand D09
PRA is committed to supporting its members to develop all aspects of their activities by offering information, services and advice which ensures that the independent fuel retailing sector can continue to grow and be competitive in an ever more challenging business environment. This also requires the PRA to challenge and work with all appropriate government departments to ensure that the sustainability of independent forecourt retailers is properly considered.
Stand C11
Ready2Wash says it offers simple solutions for the monitoring, management and business development of car washes. The company operates in 18 countries across 300 locations and has its own team of software and hardware engineers plus its own production facility.
Forecourt insight
For key insight and advice, all eyes will be on The Retailer Hub stage on July 6 for 'On the road with Forecourt Trader'. With Forecourt Trader editor Merril Boulton at the helm of a panel of experts, catch up with the latest developments in the sector; hear about the key role forecourts play in the community; and discover how resilience through the pandemic shows encouraging signs for the future on the Road to Zero.
You also might want to check out Lessons from the Pitlane with F1 team manager Marc Priestley on July 5.
Meanwhile, in the Future Products Showcase (July 5) the convenience products set to shape the next decade are up for discussion. And the power of social media is at the heart of Community Clicks, while the future of tobacco, vaping and nicotine is up for discussion in 'Smoke Signals' (July 6).
SIX SHOWS TOGETHER
The UK Food & Drink Shows unite six shows under one roof, covering the complete supply chain in three comprehensive days of insight, innovation and inspiration. The Forecourt Show joins Foodex, The Ingredients Show, National Convenience Show, Farm Shop & Deli Show and Food & Drink Expo, to create an unmissable event.
Across the six shows there are countless more opportunities for insight, innovation and networking meaning valuable time spent away from the forecourt can have even more of an impact for visitors whose interests go beyond any individual show. These include:
The Grocer Magazine's Talking Shop Live at Food and Drink Expo which will hold a series of events to discuss and debate the key challenges affecting retail, wholesale and foodservice.
Farm Shop & Deli Awards Finals 2021 which recognise the very best of the speciality retailers leading the sector in customer service innovation and community involvement.
The Dragon's Pantry will feature brave entrepreneurs experiencing the ultimate retail test. Innovative start-ups will have 15 minutes to pitch their ideas to a team of fearsomely-experienced industry 'dragons' and impress with their ideas, strategy and understanding.
Safety first at The Forecourt Show with AllSecure
The Forecourt Show organiser, William Reed Business Media, has worked closely with association partners including the Association of Event Organisers to develop industry-wide AllSecure standards for the event.
William Reed AllSecure outlines how these measures and guidelines will be put in place, designed to provide the highest levels of hygiene and safety.
These practical steps allow exhibitions running as part of The UK Food & Drink Shows to operate safely.
They also give those attending The UK Food & Drink Shows reassurance and confidence that they are participating in an environment that is effectively controlled, safe and run according to official government and local authority guidance.
The Forecourt Show, part of the UK Food & Drink Shows, is accredited with the VisitEngland 'We're Good to Go' industry charter mark.
This verifies that the show meets the government and public health guidance on Covid-19 and that we have all the required health and safety processes in place to open safely in July.