Christie & Co's Steve Rodell loves a Spaghetti Western, supports Luton FC, and surprises us with his choice of musical instrument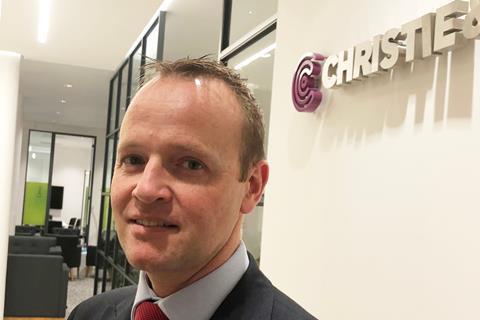 Name: Steve Rodell
Job title: Managing director – retail
Company: Christie & Co
01 Career history: Paper boy; Woolworths Saturday kid; Lifeguard (far more glamorous and paid more); university; Fleurets (pub, restaurant and hotel valuation, sales and acquisitions), Christie & Co (bigger hotels, recession, distressed assets and then retail).
02 Dream job (if you weren't doing this): To be a professional photographer.
03 What do you drive: Apart from my wife
mad, a Volvo V40.
04 What would you like to drive: AC Cobra (it's all about the noise!).
05 Perfect day: I'd start the day with walking our dog on a crisp, cold winter morning and arrive back to a nice cup of tea and a bacon roll. Watch Freddie (son) play footie, Lily (daughter #2) play netball and hang out with Summer (daughter #1) who's beyond all that and likes to 'chill' to music a lot!
Catch a Luton game with dad and then have everyone over for dinner in the evening with a few glasses of wine.
06 Favourite team: Luton Town FC (COYH!). I am a season ticket holder with my son Freddie and my dad.
07 Favourite read: Forecourt Trader, of course! If not, I like non-fiction/history.
08 Favourite film: Any Clint Eastwood film especially Spaghetti Westerns.
09 Most admire: Anyone in the frontline emergency services who don't get paid enough for what they do.
10 Possessions you couldn't do without: My phone!
11 Most likely to say: 'Yes'. I always like to give something a go.
12 Least likely to say: 'No',
if anyone asks if I would like a cup of tea!
13 Greatest achievement: Completing the London to Brighton OFF road cycle event for the British Heart Foundation.
14 Greatest fear: Losing any of my family.
15 Tips for business success: Be honest and don't over-promise.
16 Best business advice you've received: Always be careful who you trust.
17 Best thing about your job: The people.
18 Most recent business achievement/s of note:
Company led the sale of 145 Wyevale Garden Centres.
19 Pet hate: people fiddling with their phones when they are talking to you (it's rude!).
20 Anything else we should know: I can play the didgeridoo (to a basic standard!).