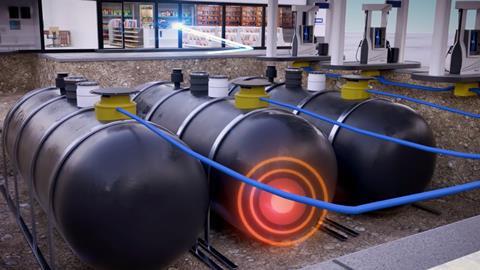 How well fuel retailers manage their wet stock over the next 10 years will be a defining benchmark for whether their retail operation grows or is forced to leave the marketplace. So says Jeroen van Pelt, Dover Fueling Solutions' wet stock business unit global sales director. "We're on a mission to help fuel retailers understand what inaction could really cost them or what it's already costing them," he explains.
When many fuel retailers hear the term "wet-stock management," they think stock control, tank level measurement or leak detection. But van Pelt says true wet-stock management is much more. "It's really the end-to-end management of fuel inventory — from the moment a fuel delivery is ordered, pumped into the tanker and dropped into the storage tank, right through to when it is pumped into a vehicle and accounted for in the reconciliation process. Although leak detection is certainly a key aspect of wet-stock management, it is more productive to think of wet-stock management on a bigger scale, as fuel loss identification and response."
Apparently there are more than 60 ways an actual or perceived fuel loss can occur. "The reasons for fuel losses range from causes most fuel retailers are familiar with, such as leaks, theft and tank calibration inaccuracies, to lesser-known circumstances including drain back and meter drift," he explains. "Most fuel site operations lack visibility of the true scope and sources of fuel losses, because legacy wet-stock monitoring solutions aren't designed to process and interpret data in a way that produces an accurate view of inventory statuses. Legacy systems also are unable to filter out the "noise" in the data created by false flags."
Choosing the right system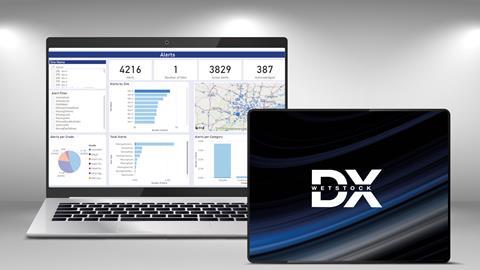 When it comes to choosing a wet-stock management system, van Pelt says different fuel retailers have different priorities, therefore it's not a straightforward decision.
"There are several factors each individual fuel retail business will need to take into consideration before they invest in a wet-stock management system," he explains.
"For instance, large fuel retailers mainly look for visibility to drive efficiencies through different business processes; whereas smaller retailers tend to be more focused on direct cost control of their stock. In many cases, the main purpose of a wet-stock management system is to mitigate risk around leaks and potential damage, both financial and reputational, to their business. In all cases it is about what kind of service level best fits their business needs and optimising cost versus benefit."
He adds that it should also be mentioned that the automation status of a site is equally important. "Wet-stock management systems work with data and the more data that can be retrieved from various parts of the business, the more insight and analytics can be analysed and provided to fuel retailers.
"All these elements reinforce that wet-stock management is not a "one size fits all" solution. There needs to be a process of assessment and understanding to help fuel retailers optimise their business processes, to provide end-to-end insight that ultimately helps contribute to their overall business goals."
Rejecting the status quo
Maintaining status quo wet-stock operations may be the greatest threat to a fuel retailer's sustainability, says van Pelt. Failure to update wet-stock management practices can:
• Impede business growth
• decrease margins
• put your brand reputation at risk
• jeopardise safety
• compromise data security
• escalate maintenance costs
• diminish the customer experience
He says that digital end-to-end fuel inventory management solutions such as DX Wetstock provide a pathway to operational excellence that is trackable, scalable and sustainable. "Fuel marketers who adopt advanced solutions differentiate themselves and establish a competitive advantage that widens as late adopters fall behind. At some point, fuel retailers who do not invest in digital solutions will lag so far behind they will likely be driven out of the market."
He continues: "In our experience, many fuel retailers with basic wet-stock management programs imprudently assume everything is fine with their wet stock, but when we help them look at their programs more closely, fuel losses, data errors and operational inefficiencies reveal themselves in most instances."
Related to this is an understanding of the organisation's commitment — both strategically and financially — to digitally-transformative solutions such as DX Wetstock.
"Align investment goals with business goals, create alignment among operational stakeholders for executing those goals and establish a timeline for completion," he advises. "Approach wet-stock management from a position of constructive, long-term operational improvement rather than correcting a tactical performance weakness. Embracing change isn't an admission that the organisation's wet-stock practices have been wrong. Rather it is the acknowledgment that there are new and better ways to manage fuel inventory. Even if overhauling the operation's wet-stock program isn't possible immediately, begin exploring options for the future. How powerful the operation's wet-stock program is a few years from now will shape a company's ability to excel in an increasingly competitive landscape."
End-to-end wet-stock management solutions, such as DX Wetstock, enable fuel retailers to leverage fuel system and fuel inventory data to quickly reconcile fuel discrepancies, right down to the litre. This helps put fuel sites on the path toward operational excellence.
DX Wetstock not only collects and processes data from numerous sources to identify fuel variances, but it also accounts for perceived losses that would otherwise create "noise" in the data. It also provides workflow guidance that helps users initiate corrective actions. Additionally, DFS wet-stock analysts are available 24 hours a day, seven days a week to help manage subsequent investigations to quickly implement the correct solution. These solutions are designed to save fuel retailers time and lower operational costs, which in turn, can be leveraged to pursue growth opportunities for the years ahead.
Van Pelt says DX Wetstock is simple to set up and use and can help any size forecourt identify and minimise fuel loss, transform the entire reconciliation process and lower overall operational costs, all while mitigating risk.
Live data is a must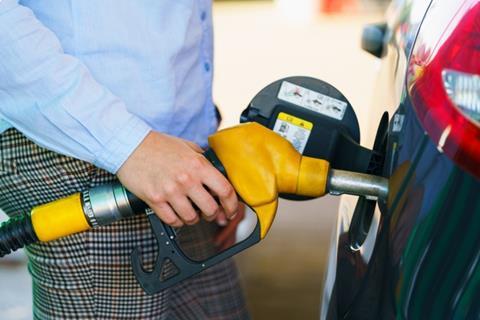 Dan Gibson, wet-stock manager at Suresite Group, says it's especially important to choose a system which monitors your stock in real time, detecting variances as they happen; everything from leaks in tanks or pipelines, to water ingress or theft.
"For example, at Suresite our expert wet-stock analysists are on hand to alert you to any issues, with our systems monitoring your stock 24/7. Additionally, you can use our online marketplace – Suresite Connex to monitor your fuel at any time of day of night, providing you with real-time updates and giving you complete visibility over your fuel."
Gibson explains that live data helps to identify the most popular pumps and the most popular fuel type being sold from them.
"It allows you to ensure tanks are stocked correctly and fuel is available in such a way that profit is maximised. Having a nozzle out of action can have a dramatic effect on the day's profits, but truly live data can detect problems in real time. At Suresite, we're able to detect and alert a forecourt if a nozzle isn't used by a customer for more than two hours during the sites opening hours. Analysts can then investigate and provide you with a timely update to repair hardware and negate any potential profit loss. "
Gibson says that any loss will now cost the business nearly twice as much. "During the first lockdown in 2020, the price of fuel was £1/litre and today, the price is closer to £1.50/litre. An underlying loss of even 0.1% could cost a single-site operator thousands of pounds a year and, for far larger retailers with multiple sites, this could now be in the millions. Wets-tock management can help retailers of all sizes to mitigate and prevent fuel loss or theft.
Gibson also advises that forecourt operators should choose a provider who offers a back-up device as standard, so if your main device fails – your back up will come in to play, without significant delay.
He also points out that regulatory compliance is fundamental in the management of wet stock, as not complying with government regulations can have disastrous consequences for both the environment and your business. He says to choose a provider who helps you to meet the standards of the following governing bodies:
• Health and Safety Authority
• Environment Agency
• Petroleum License
• DSEAR Risk Assessment
• APEA and EI Blue Book guidance.
Calibration time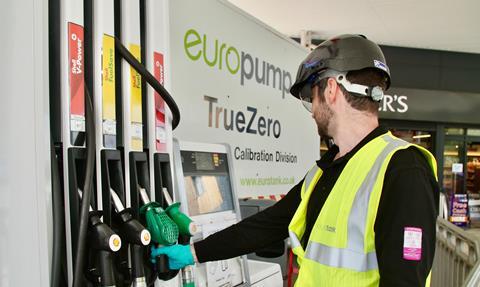 At Eurotank Service Group, group managing director Edward Wheeler, says the wider use of temperature adjusted supply contracts and automatic temperature compensation (ATC) means a one-off calibration of tank gauges using a laser calibration system is more important than ever.
The company's Calibex ATEX-approved laser calibration system can quickly measure a live underground tank to produce a highly accurate strapping table (the table that equates height of fuel to volume of fuel in a tank), ensuring that wet-stock data gathered from the tank gauge is as accurate as possible.
Wheeler says: "ATC creates a significant challenge for wet-stock monitoring companies to detect low level meter drift. Every time the temperature of fuel changes, so does the volume of fuel dispensed, making reconciliation difficult because the temperature of the fuel in the tank is not always the same as the temperature of the fuel in the pump where the temperature sensor is."
When fuel is sat in shallow-depth pipework in the summer it is warmed up, causing the ATC system to compensate the consumer by giving them more. "This becomes a problem for reconciliation if the temperature used to compensate is higher on the pump than the recorded temperature on the tank gauge," explains Wheeler. "Without laser calibrating the tank to create a perfectly accurate strapping table, a retailer will never know the exact volume of fuel they have at any one time. Tank shapes vary significantly and that is why tank gauges have inaccuracy issues.
"Historically, the most accurate volume readings a wet-stock monitoring company has would be the pump sales data and they would use that to smooth out strapping table variances," adds Wheeler. "Once ATC is introduced the historically reliable pump sales volumes are much less accurate so having a very accurate tank gauge reading becomes critical. The problem with electronic tank gauges is they may have only had as little as four volume-to-height measurements inputted during commissioning, and started off in auto-calibration mode, which only works effectively if the tank was initially filled to capacity and then run down to nearly empty before the next delivery to capture all the measurements."
As well as a one-off laser calibration of tank gauges, Eurotank recommends that pump measure checks are carried out every year. Eurotank's TrueZero pump calibration system is a closed-loop piston meter system designed to reduce wet-stock shrinkage caused by vapour loss during pump meter calibration.
"As motorists fill up, the meters inside petrol pumps will eventually drift so that, in almost all cases, they give away more product to the consumer than was paid for," says Wheeler. "Regular meter audits and cut-back programmes should be in place to reduce the impact of meter drift. The higher the volume throughput, the more regularly you should have your meters checked."