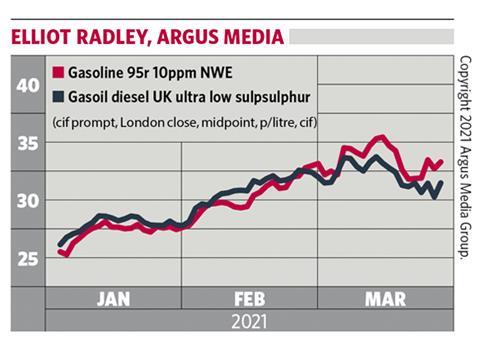 Hopes of a recovery in European products demand through the second quarter and into the summer months are being dashed by a rise in Covid-19 cases on the continent, and an increase in movement restrictions to combat the virus' spread.
Towards the end of March, movement restrictions were either extended or increased in France, Germany, Italy, Poland, Spain and Belgium – countries responsible for a sizeable portion of European road fuels demand. The restrictions in Germany, one of Europe's largest consumers of diesel and gasoline, are likely to be of greatest concern for producers and suppliers of road fuels in the region.
European refining margins have faced pressure in March as a result. European diesel cargo premiums to benchmark North Sea Dated crude have averaged some $5/bl in March, compared with more than $6/bl in February. Jet cargo premiums have also suffered, as the likelihood of a surge in summer holiday travel slowly diminishes, with premiums at $2.60/bl in March from $4/bl in February.
But gasoline is an outlier in Europe, with refinery margins trending upwards in recent weeks. Firm outflows from Europe to the US have lent support, with those volumes plugging the supply gap caused by the decimation of US refining capacity by winter storms in mid-February. But the transition to summer grade production in the ARA refining hub is also a key factor, as typically more expensive blend components are required to meet more stringent evaporability limits for summer-grade gasoline. That support has seen European gasoline benchmark Argus Eurobob oxy barges rise to average premiums of $5.75/bl to Dated in March, from closer to $3.75/bl in February.
On transitions, at the end of February the UK government announced it will introduce E10 as the standard gasoline grade at filling stations from September. The gasoline – which contains up to 10pc bioethanol – will replace E5, and help the country achieve its renewable fuel obligations. Along with Eurobob oxy, the benchmark blendstock used to produce E5 gasoline, Argus has been assessing Eurobob non-oxy, used to produce E10, for several years.
Trade of Argus Eurobob non-oxy in the Amsterdam-Rotterdam-Antwerp (ARA) gasoline barge market have been steadily rising since Argus moved to a volume-weighted average assessment in late 2019. Argus-assessed non-oxy gasoline volumes rose by 46pc on the year to hit a record high of 1.05mn t (1.4bn litres) in 2020, despite the fact the pandemic cut demand substantially.