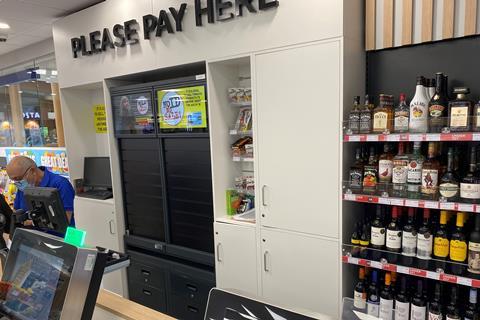 Navarra Retail Systems has supplied and fitted a smart tobacco gantry for WHSmith at Roadchef's Stafford South Services on the M6.
Hugh Walker, sales director at Navarra, said: "Roadchef has made a significant investment in this WHSmith shop with self-service till systems and brightened up the usual WHSmith retail experience for motorway travellers.
"As part of this major investment they have included a RDH1200P Smart Tobacco Gantry manufactured by our supply partner GM Global Solutions. This one has two x 24" media screens which is networked to run promotions and customer communications as well as the standard tobacco signage and warnings.
"We supplied Touchvend from Redkey Technology to control the system and give a speedy service. All the tobacco is locked away safely and but is immediately available to paying customers. It is a neater and more secure solution that befits a large budget shop refit."
Walker said a similar system was fitted at Roadchef Sandbach South, again on the M6.
Walker added that his company had been made aware of an increase in tobacco theft and 'opportunistic 'robberies due to the cost-of-living crisis and, as a result, has received plenty of calls asking us for a solution to keep tobacco safely locked away.
"We also did a transformation job on a small indie site in Stoke on Trent for Roadfleet. The transformation was impressive – from a dreary old backline with an old gantry and the usual drab fixture for medicines, to a neater smart tobacco gantry matched to their tobacco sales with an impressive back illuminated display for an extensive vape range," he explained.
Using lease purchase, Navarra got the customer the whole transformation for just £32 a week, which is the amount the customer thought he was losing in tobacco shrinkage and mistakes. In addition, the new display means his vape sales are increasing as they are well merchandised and very easily seen.
"Many of our clients are ditching the large old fashioned gantry for a smaller smart gantry linked to their till for security, with just the fast tobacco sellers inside. In the gap left we then build the space for a dedicated vape fixture and can add a 'wow' factor to the fixture with colour changing back illuminated shelving panels. It's all done in one day and at a lower cost than most expect."