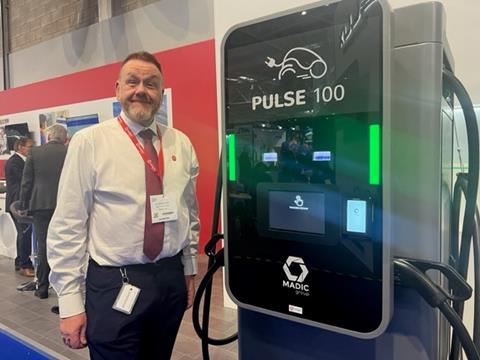 TLM technologies used this week's National Convenience Show at the NEC Birmingham to introduce retailers to its new name: MADIC UK.
TLM technologies has been part of the MADIC group since 2019 and the change of name cements its standing in the group, which is present throughout the world with 30 offices and industrial sites.
Adrian Felton, managing director, TLM technologies, commented: "Changing our name to align ourselves with our parent company, MADIC group, is a natural next step, as we begin to extend our core product, evoPOS, to the global market as well as offer MADIC group's products and services to the UK market.
"Being part of the MADIC group we can now offer extended products and services, such as fuel dispensers, EV chargers and digital media. We'll be the same great team, delivering the same great products and services to c-store and forecourt retailers."
MADIC UK also used the National Convenience Show to show off its new 'modular' Pulse 50-100 charging terminal, which is being launched soon.
Compliant with the latest standards of charging protocols, the 'modular' aspect of the unit is key as it has been created to be easily upgraded meaning it can start at 50kW but then an additional power stack can take it to 100kW.
In addition, the digital display has been designed to be really easy to use and give drivers all the information they need about the charge.